1st Wedding Anniversary Gift Ideas – 18 Paper Wedding Anniversary Gift
The first Wedding Anniversary is a milestone that deserves to be celebrated. So, that's the reason why we're here to share our ultimate list of 1st Wedding Anniversary Gift Ideas. We know that it's your paper wedding anniversary and you want to make it special with a perfect gift. Therefore, our gift ideas have covered all your needs and are sure to keep your love alive for the rest of your lives with your spouse.
Related Gift Ideas:
1st Wedding Anniversary Gift Ideas
Wedding Anniversary Gift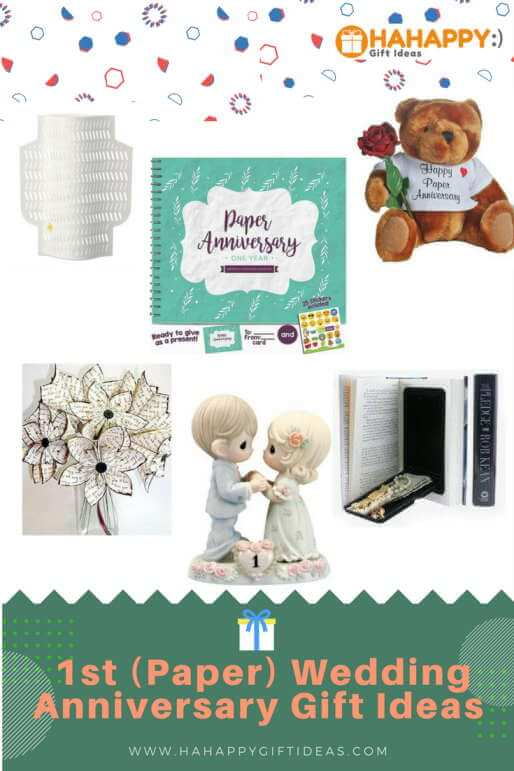 (Hahappygiftideas is supported by its audience. As an Amazon Associate, this post may contain affiliate links, we earn small commission from qualifying purchases at no cost to you.)
---
#Something Made of Paper
The first wedding anniversary gift ideas are traditionally something made of paper. We've revealed some inspiring ideas for those wanting to celebrate their first anniversary with a thoughtful and traditional paper gift. Our selected paper gift offers plenty of fun and modern ideas that are sure to make your spouse looking forward to another wonderful year!
1st Wedding Anniversary Gift Ideas – Book Safe With Surprise Inside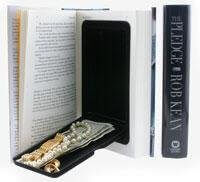 (Book Safe Made from a Real Book, amazon.com)
If your partner is a bookworm, buy this book safely and surprise him/her by filling it with something like a loving message, fancy chocolate, or jewelry. This is a great way to give paper gifts outside the box of tradition.
Tickets for a Great Day Out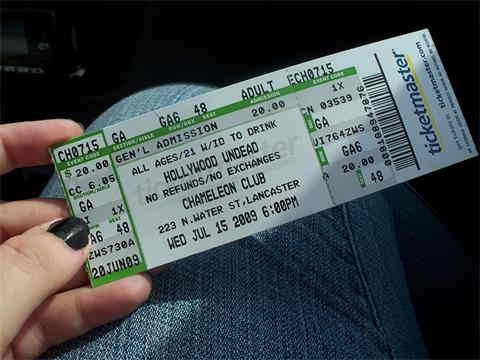 (Ticket service, ticketliquidator.com)
Whether it's for a concert night or romantic musical, tickets are a memorable paper gift ideas. If your loved one is a sports fan, you could even get tickets to a sports game of his/her favorite team. You know what would be awesome? Keep the tickets and framed them after you finished the event, it makes a great keepsake for years to come.
If He/She is is guitar lovers, check out our another post: Best Gift Ideas for Guitarists – 31 Gift Ideas to Rock and Roll
1st Wedding Anniversary Gift Ideas – Art Print with LOVE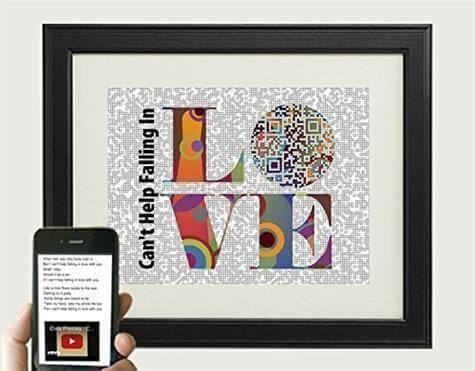 (QR code art print, amazon.com)
When we say love, we mean LOVE. This incredible QR code paper art print is a great 1st Wedding Anniversary Gift Ideas – for couples! When you simply scan the QR code of the "O" by your smartphone, it will show up the youtube video – Can't Help Falling In Love – with the song lyric. Best of all, you can also have your personalized message and video link with this design by contacting the supplier when checking out the order.
1st Wedding Anniversary Gift Ideas – Paper Vase For Her Blossoms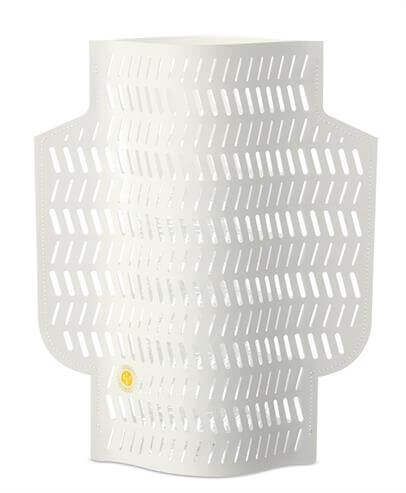 (Coral Paper Vase, lanecrawford.com)
To add some touch of modernity to her blossoms, give your wife this waterproof paper vase on the first wedding anniversary day. This paper vase spots hundreds of die cuts in a chevron motif, and easy to use. It is one of the best 1st Wedding Anniversary Gift Ideas for her.
1st Wedding Anniversary Gift Ideas – Calendar – Mark His/Her Special Days of Years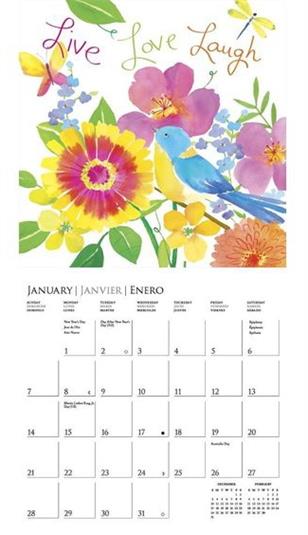 ( Live Love Laugh Cavallo Wall Calendar, calendars.com)
If your other half is busy, give her/him a paper wall calendar and help your loved one mark the dates. Don't forget to circle his/her birthday, your first date, your wedding anniversary, and any other dates that are special for both of you with a big heart shape drawing.
1st Wedding Anniversary Gift Ideas – Journal With Your Loving Message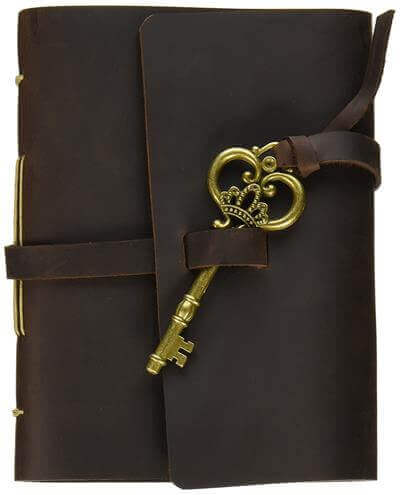 (Ancicraft Unique Leather Journal, amazon.com)
If you are searching for the first wedding anniversary gift for your husband, this handmade journal with a heart-shaped key is a gorgeous idea for him. To make it more special for your 1st wedding anniversary, why not secretly write down your loving message or any things you want to thank him for what he did for you during the first year of your wedding.
---
---
#Something Romantic
Without romance, your anniversary day seems to be a little bit boring. So, it's the right time for you to express your love to your other half with a romantic gift after the greatest yet hardest year in a relationship. If you feel that giving flowers and chocolate are pretty standard, here are some other romantic gift ideas that can surprise your loved one and ensure a wonderful time ahead.
1st Wedding Anniversary Gift Ideas -Romantic Message in a Bottle

(Personalized Endless Love Message in a Bottle, giftsforyounow.com)
If you are still snuggling about what to get your husband or wife for 1 year anniversary, your quest stops here. Express your love and romance to your other half with this romantic message in a bottle personalized by you. You can write your own or choose from three verses, the love letter will include your sweetheart's name at the top and a two-line sentiment to finish the verse.
1st Wedding Anniversary Gift Ideas -Pamper Her With A Teddy Bear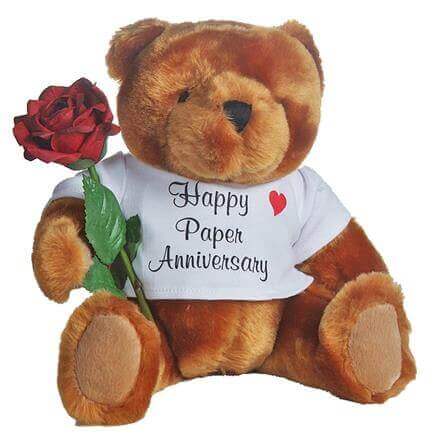 (Teddy Bear with Paper Rose Gift, amazon.com)
What could be a cuter way to celebrate your paper anniversary than giving your wife this gift set? This 11" Teddy bear is wearing a t-shirt that says "Happy Paper Anniversary" while holding a rose made of paper. If you're looking for first-year anniversary gifts for her that with a touch of romance, search no more.
Paper Flowers To Express Your Forever Love
(A Dozen "I Love You's" – 12 paper flowers, amazon.com)
We get it, she loves flowers. If you feel like surprising your wife on the paper anniversary day with a dozen of flowers, top it off with these beautifully handcrafted stemmed paper flowers. Best of all, you can customize the printed paper with your names and anniversary date, or any short message you want. Unique, pretty, and most important, last forever.
click here for more romantic gift ideas
---
#Something Personalised
Personalized first anniversary gifts are a great way to celebrate and commemorate your special day with extra special. We're sure that couples love to see their name, wedding date, or photos on the gift, and below are some great ideas to create extra special memories!
Personalized With Your Wedding Date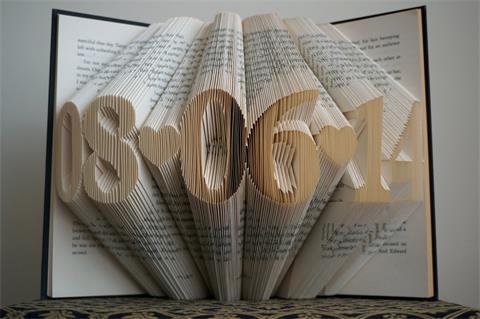 This creative Folded Book Art, which is hand made by carefully folding the individual pages of a brand new book to craft your Anniversary date, is sure to celebrate your paper anniversary in a unique way.
Personalized With Your Name
(3D Paper Tree & Hearts Sheet Music, amazon.com)
Celebrate your paper anniversary with this beautifully crafted art frame. This handmade gift features personalized names hearts, a red "Happy Anniversary" heart, 3D Paper Tree, and the song "Thinking Out Loud." It also makes a great decor for your sweet home.
Personalized With Your Photo
(Framed Magazine with Custom Photo and Names, giftsforyounow.com)
Looking for a fun personalized gift for the 1st anniversary? This customized photo love magazine cover will really WOW your loved one and makes him/her smile. This special gift is printed on a quality high-gloss paper and placed in a black frame, which makes an ultimate keepsake for any couple in love.
Personalized With Your Mementoes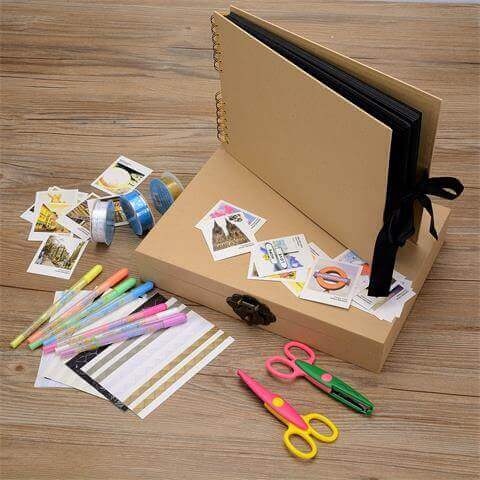 (Scrapbook with Photo Album Storage Box, amazon.com)
Collect all the mementos from the "Year One" of your marriage, from photos and tickets to any loving messages and memos, and present them all with this classic photo album. This scrapbook kit makes a perfect unique gift for your paper wedding anniversary whatever you would like to express to your partner and will last for years to come.
Personalized With Beautiful Illustration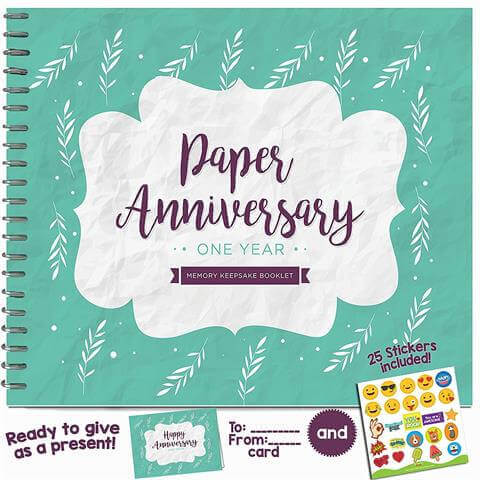 (First Year Booklet, amazon.com)
If you are looking for a stress-free booklet to keep and display all your mementos with your other half, then buy this awesome Paper Anniversary Memory Journal. It has 24 beautifully illustrated pages which are extremely easy to fill out without having to break your head over what to write.
---
---
#Something Sentimental
A sweet sentiment anniversary gift can highlight your love for each other. Here are some sentiment gifts to help you express your love and celebrate all that you've learned about your wife/husband in your very first year of marriage, from lovely pillow to music box, porcelain figurine, and love poem.
Lovely Pillow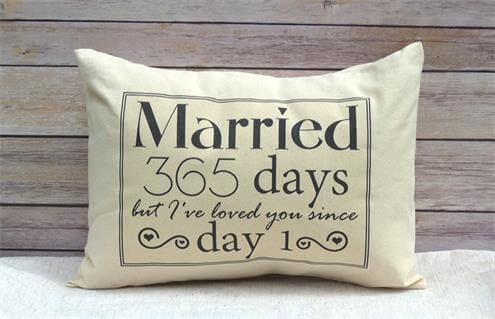 (Married for 365 days Pillow, amazon.com)
For some, 1st Anniversary Day reminds them of when they first met. If you've loved your other half since day 1, give this lovely pillow and it will remind him/her about the first 365 days you both spent together.
Elegant Music Box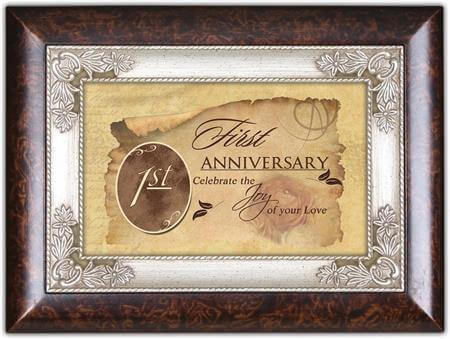 (First Anniversary Music Box, amazon.com)
This elegant trimmed Music Box, which can be personalized with your own messages and photos, is sure to make a great 1st (Paper) Wedding Anniversary Gift Idea or family keepsake.
Heartwarming Figurine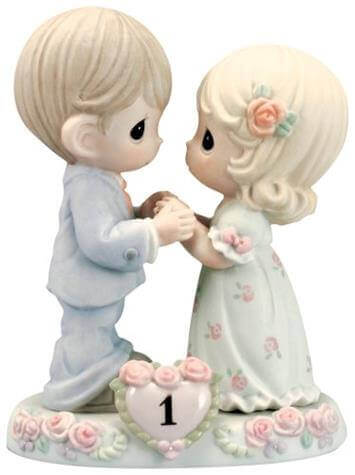 (Precious Moments Bisque Porcelain Figurine, amazon.com)
For the sentiment inclined, a heartfelt Bisque Porcelain Figurine is a guaranteed hit. It is sure to set a statement for a happy couple of all the love memories made from the first year of their marriage.
Sweet Poem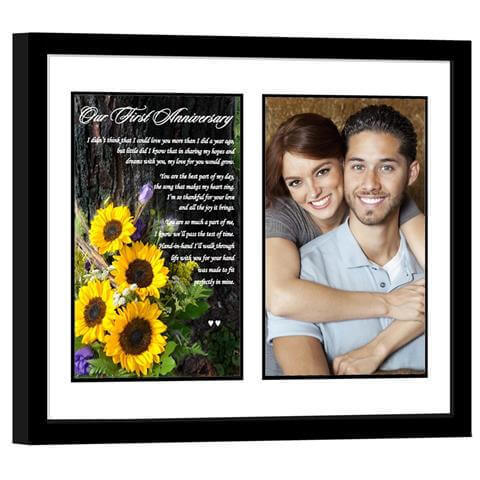 (Sunflower Photo with Romantic 1st Anniversary Poem, amazon.com)
A sweet poem is a lovely way to show your love on your first wedding anniversary day. We're sure this sweet first-anniversary poem with your photo will highlight your 1st anniversary and let your husband or wife know how much you care and love.
---
Related Post: Birthday Gift Ideas for Wife
Photo credit: darknesschildsin via Visual Hunt / CC BY-SA

Disclosure: We are an affiliate of the products and services covered in this site. If you purchase through our link, we get paid for the referral at no cost to you. Please read our disclosure for more info. I sincerely thank you for your support.