Retirement Gifts For Coworkers – 17 Thoughtful Gift Ideas That They Will Actually Love
Are you Searching for Retirement Gifts For Coworkers? Retirement is just another new phase in life, so make sure you have given them the best gift for these important milestones. No matter you're looking for a fun gift to celebrate their retirement, or a unique, thoughtful gift that appreciates all their hard works over the years, or a useful gift that helps them feel relaxed in their retirement life, you will find the best choice at HaHappyGiftIdeas. Let's choose the perfect gift for your co-workers from our great retirement gift ideas below.
Related post: The Best Retirement Gifts For Boss, How To Celebrate Dad's Retirement, Thoughtful And Unique Gifts For Mom's Retirement)
Retirement Gifts For Coworkers
(Hahappygiftideas is supported by its audience. As an Amazon Associate, this post may contain affiliate links, we earn small commission from qualifying purchases at no cost to you.)
17 Retirement Gift Ideas For Your Coworkers & Colleagues:
---
1.
Framed Personalized Retirement Appreciation Poem

If you have been looking for personalized retirement gifts for your coworker, this is a sentimental retirement keepsake that the retiree will cherish. This beautiful photo framed celebrates not only their retirement but a more important and special appreciation of the unique individual.
---
2.
Nixplay Seed 10 WiFi Digital Photo Frame
Celebrate your loved co-workers' retirement with Nixplay Seed 10 WiFi Digital Photo Frame. In addition, you can preload all the special memories from their work life to create a keepsake quality Retirement Gifts For Coworkers.
---
3.
Retirement Schedule Calendar Coffee Mug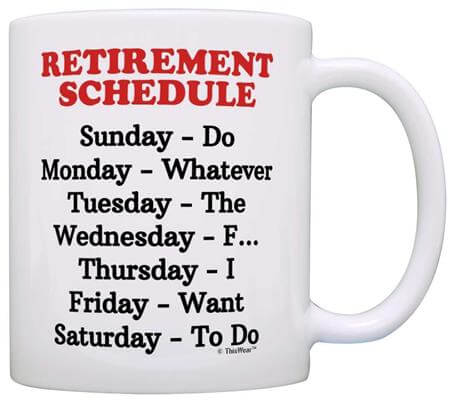 One of the funny retirement gift ideas for coworkers. Everyone who is retiring will love the hilarious retirement schedule printed on this white ceramic coffee mug. Also, it is perfect for any hot beverage and great for everyday use. Microwave and dishwasher safe and lead-free.
---
4.
Tissot Men's Tradition Swiss Quartz Brown Watch
Need a great gift for your coworkers to remember the good old times of their years of service to the company? This Tissot Men's Watch is one of the classic retirement gift ideas for men. It features a Stainless Steel case, Silver dial, Leather strap, Quartz movement, and Water-resistant up to 3 ATM.
---
5.
The One Only Legend Retired Premium Hoodie Sweatshirt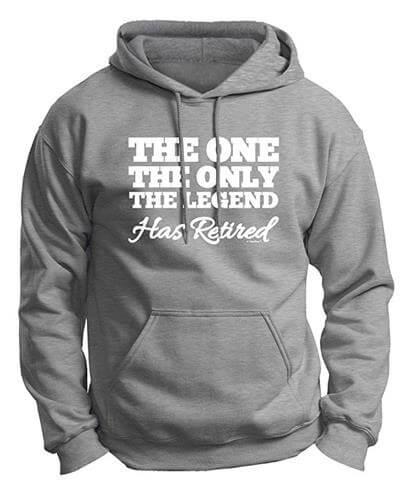 Enhance the retirement celebration with a funny but yet practical gift. Therefore, this unique hoodie is sure to be a hit. It is designed and printed in the USA with eco-friendly ink. There are three color options and a variety of sizes to choose from.
---
6.
Giant Retirement Gift Card  
This funny, big Retirement Gifts For Coworkers is definitely a big hit and will sure to be stand out from the crowd! It is big enough for everyone in the company to sign and write some sentimental farewell messages. Let's thank the retirees for all their hard work and everything they've done throughout the years.
---
7.
Personalized 14K Gold 3-Initial Monogram Necklace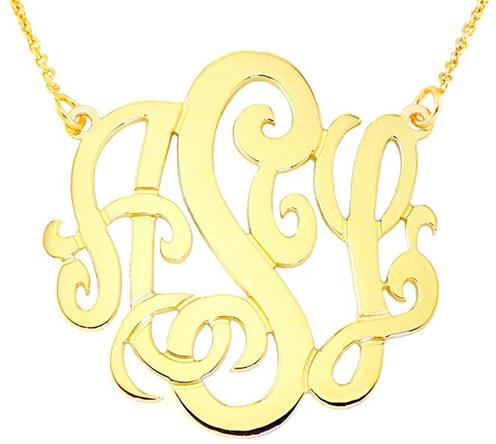 Surprise your coworkers with a thoughtfully picked out 14K Yellow Gold Necklace for her retirement. It is handcrafted & personalized with a 3-initial monogram. She will be pleasantly thinking of her long and fulfilling career when she wears it. If you're also looking for retirement gifts for mom, it is a great choice too.
---
8.
Retirement Hallmark Gift Ornament Milestones
One of the greatest Hallmark retirement gifts. Give this adorable and affordable Ornament Milestones as a gift to recently retired co-workers. It's perfect for reminding them to enjoy and relax their new life.
---
9.
Foundations Retirement Angel Stone Resin Figurine
What is a good retirement gift for a woman who has everything? Give the gift of thoughtfulness for her to start a new page in life. This Retirement Angel Stone Resin Figurine blesses her retirement and accomplishments over her career years. It also gives the best wishes for the journeys on which she has yet to venture.
---
10.
Golden Gourmet Gift Basket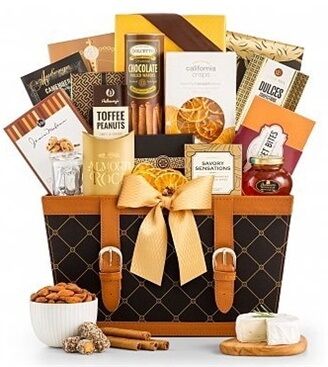 Are you looking for retirement gift basket ideas for your co-workers? This Golden Gourmet Gift Basket makes a perfect gift basket for sending your best wishes for their retirement. It offers a rich variety of flavorful treats, including Almond Roca, Candy Berries, and much much more.
---
11.
Etched Globe Whiskey Decanter Set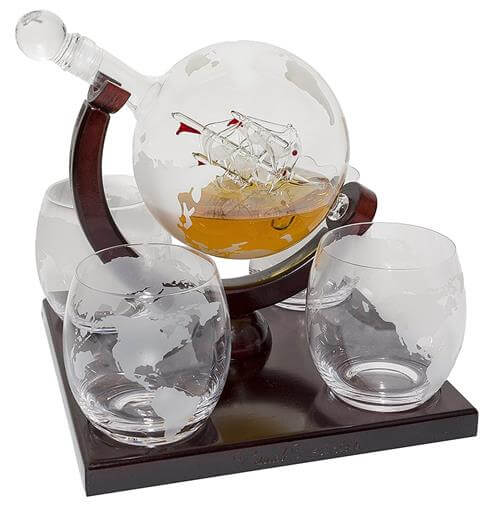 Looking for truly handcrafted Retirement Gifts For Coworkers who love whiskey? This Whiskey Decanter Set is the ideal retirement gift for him. This glass globe decanter is beautifully hand-blown with a luxurious quality sailing ship inside. It is also a great retirement gift idea for dad. Unique, Elegant, and Sophisticated.
---
12.
Leathario Leather Luggage Travel Bag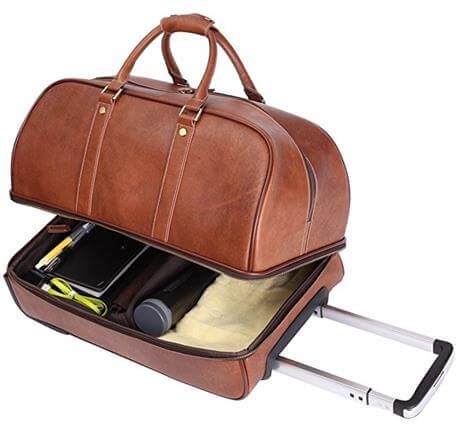 For the coworkers who often said they'd travel more if they have retired, help them on their journey with this 2-way luggage bag. It is made of 100% Genuine leather. Also, it could be used as a rolling duffle bag or handle duffle bag. Very functional but yet still looks stylish and classic.
---
13.
Fitbit Alta HR, Blue/Gray, Large (US Version)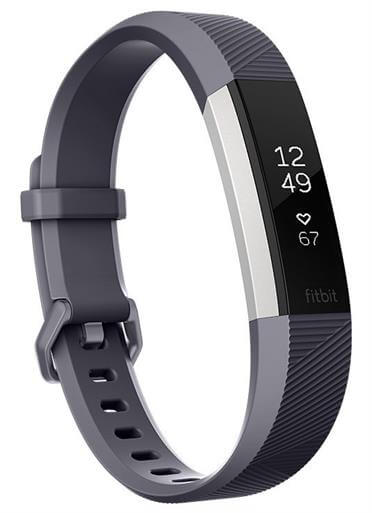 Many retirees have more concerns about their health and have more time for exercise. Give them a health-inspired gift that helps them achieve their health goal. Fitbit Alta HR can be useful. From walks to sleep, track it all. For the small size, click here.
---
14.
Deluxe 4 Person Picnic Backpack Bag
Ideally, every retiree will be able to have a more enjoyable picnic excursion with their family and friends all say. The Deluxe 4 Person Picnic Backpack Bag is a true all in one mobile picnic set. It ensures their picnicking time will be effortless and fun!
---
15.
Bamboo Cheese Board and Knife Gift Set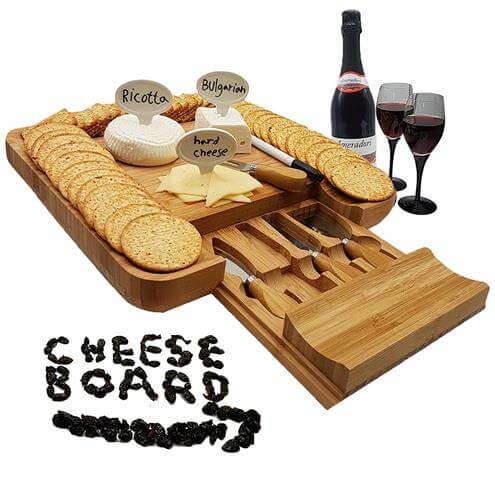 If the retiree on your gift list loves cheese, this cleverly designed Bamboo Cheese Board Gift Set is what you need to give. What's better than enjoying a slice of delicious fine cheese with a glass of red wine in a relaxing time.  
---
16.
Gardening Delight Gift Basket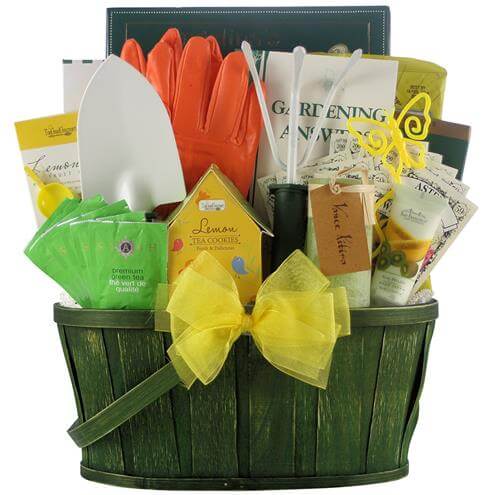 If the coworkers on your gift list are planning to spend most of the time in their garden after retirement, then this Gardening Delight Gift Basket is a great retirement gift idea. It features a fantastic variety of gardening stuff like Gardening Gloves,  flower and vegetable seed packets, and much more.
---
17.
Copper Chef  6 Piece Set with Induction Cooktop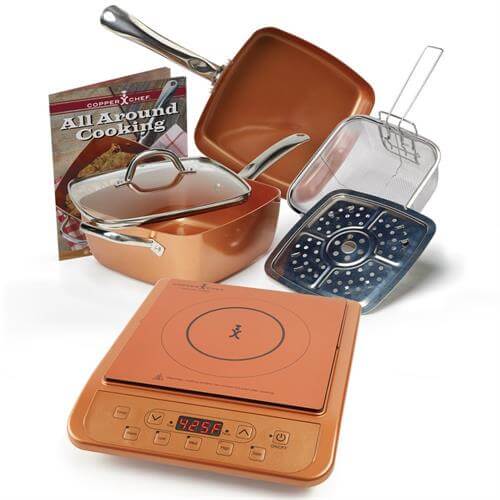 If your coworkers who love to cook is going to retire, this Copper Chef  6 Piece Set is a great retirement gift for them. The CeramicTech non-stick technology makes this Copper Chef Set perfect for cooking. PTFE and PFOA free.
---
Photo credit: aronbaker2 via Visualhunt.com / CC BY
Disclosure: We are an affiliate of the products and services covered in this site. If you purchase through our link, we get paid for the referral at no cost to you. Please read our disclosure for more info. I sincerely thank you for your support.