35+ Unique Gifts For Women Who Have Everything
If you're buying the Unique Gifts For Women Who Have Everything or looking for gifts for hard to buy for females, your quest stops here, and allow us to lend a helping hand. We have found more than 35 unusual gift ideas to pamper the most amazing women who are hard to shop for.
Take a look at our favorite picks and surprise the special woman in your life! From unique to thoughtful, romantic to creative, you will find the best gifts for her. Enjoy shopping!
Gifts For Women Who Have Everything – FAQ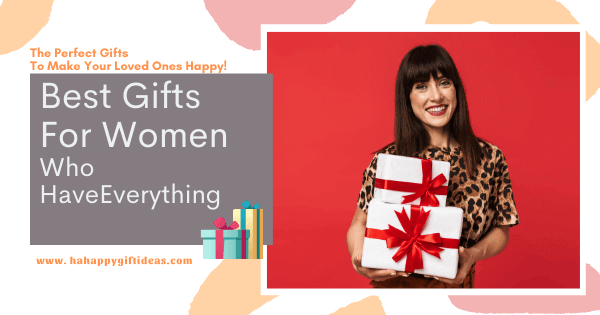 Q: What to get for the person who wants nothing?
Like this, my mom is. When I asked her for gift ideas for birthdays, Christmas, and holidays, she typically (but not always) replied, "Don't get me anything and i want nothing."
If you have a special person on your gift list who wants nothing, pay attention to their preferences. For such folks, consumables are frequently appropriate gifts. For example, when I handed my mother a bottle of scented perfume or lipstick in a trendy color, her face would light up even she wants nothing.
Q: What do you buy a rich lady?
What should you get a rich lady as a gift? They have everything they could possibly want (and more), so what should you get them? It may appear complicated, but it is simple and clear: Love and care, it's the most valuable gift a rich lady needs but doesn't always have.
Even she is rich, she can't do something on her own, or has the skills, time, or drive to do so. So be the small spark of pleasure that blesses them and gives them a gift that multiplies your influence thrice. For example, you may consider factors like:
Is the woman a new mother? Is she asking you to mind the kids so she can take a break?
Is she gardening enthusiasts who hasn't been able to complete their tasks due to a lack of time? Say that you'll come over on the weekend to assist her and provide an extra pair of helping hands.
Is the lady elderly and doesn't have any relatives who come to see her? You might come for lunch once a week just to let them know that they have someone who cares about them when her family is unable to do so
Thus, just spend time and effort and send your love to that rich lady in your life.
Q: What do you get for the girl who has everything?
It might be difficult to find a gift for the girl you loved. However, if the girl you're purchasing for already has everything, it might be even more difficult to come up with a wonderful gift she'll like. Whether it's for your girlfriend, best friend, or daughter, choosing a gift that she'll adore is simple if you choose one of the products below.
Consumable gifts that show their personalities, such as a lipstick with the latest trendy color, a bottle fragrance with special scent, or a bouquet of flowers
Stylish gifts that are up to the latest trend, such as a nice dress, fashionable sweater, trendy handbag, unique necklace & earnings.
Latest techie gadget that makes their life easier, such as the latest iPhone, AirPods, smartwatch.
Personalized gifts that can make as a keepsake for years, for example a personalized necklace, wallet, cosmetic bag.
Experience gifts that play into their hobbies, such as a ticket to her favorite singer's concert, or day trip to her favorite theme park.
(Related Post: Top Gifts for Women In Their 20s)
Q: What to get a 60 year old woman who has everything?
If you are looking for a gift for a 60-year-old woman who has everything, perhaps you may ask her if there's anything she wants or needs that might be helpful, but that might make it too obvious what you're purchasing. Below are some inspirations for you to get the right gift for her.
Gifts of Jewelry

Despite what many stereotypes about aging say, many women over 60 don't mind to have more jewelry that makes them appear beautiful and sophisticated. Diamond ring or gemstone earnings are good gift ideas for her.

Customized Gifts

Her 60th birthday is a significant milestone, and she deserves an equally significant present. To amaze the birthday lady, choose something personalized.

Gifts for the Family

Nothing, regardless of age, is more valuable than family. On her 60th birthday, give her a unique present that brings her closer to her family. A digital photo frame with all the family photos, a nice day out with the whole family will delight her heart.

Gifts of Experience

If she's a difficult shopper, you can't go wrong with a experience gift. Purchase a lovely arrangement of flowers and take her for a picnic on a bright day in a semi-public area, such as a park or near to a lake, she will have a great day.

Gift of Handmade things

Something thoughtful and maybe handcrafted would be a nice choice. Handmade soaps with her favorite smell or a lovely handmade card.
(Related Post: 60th Birthday Gift Ideas for Women)
Gifts For Women Who Have Everything – Related Posts