Disclosure: This post may contain affiliate links,  which means if you purchase through our link, we may receive a small commission for the referral, at no cost to you. Please read our disclosure for more info. We sincerely thank you for your support!
Last Updated on December 3, 2020
Picking Gifts For Twenty-Something Women can seem like a difficult task. Most of the women in their 20s have great personal style, they love fashion, beauty, as well as gadget gifts. But she also picky and probably can't afford all the things they love. So, what are the best gifts for twenty-year-olds? HAHAPPY has rounded up 16 top gift ideas for 20 somethings women, and it will bring you the chance to make her birthday or any occasion special.
(Related: Gifts for 20 something guys)
advertisement
16 Top Gift Ideas For Women In Their 20s:
---
1.
10k Gold Personalized Name Necklace
Looking a gorgeous gift to win her heart? You can't go wrong with a beautiful 10k Gold Personalized Necklace with her name. It is just the right gift to surprise the woman you love. It is a great choice if you're looking for a unique jewelry gift for her, while at the same time allows your fashion queen to look great on any outfit. Unique, beautiful, and elegant.
---
2.
Silpada Sterling Silver Tassel Fringe Drop Earrings
If you're looking for a budget jewelry gift that is high in quality and affordable, while at the same time chic and trendy, then the Silpada Sterling Silver Tassel Fringe Drop Earrings are a perfect choice! They're fabulous for young women to wear to a weekend brunch, a day or night party, or wherever they're going. One of the best gift ideas for 22-year-old female.
---
3.
Michael Kors MK Logo Heart Bangle
Sweeten up your loved women's hearts with Michael Kors MK Logo Logo Heart Bangle. This beautiful rose gold-tone bangle comes with a logo heart pendant with a touch of feminine flair, and it adds quite glamor to the wrist. Simple, Shimmering, and Sweet.
---
4.
Ray-Ban RB3025 Aviator Sunglasses
If you're picking gifts for a 25-year-old woman, it's time for you to help her retire her $10 frames and upgrade to a pair of Ray-Ban sunglass that will last at least for years. Your loved one will definitely adore this pretty sunglass. With a classic gold frame, she can see the world through a lens in gradient pink. Exceptional performance, high-quality, and comfort.
---
5.
Kate Spade New York Women's Eniko Cross Body Bag
Any ideas about what do women like for their 20s birthday? You can't go wrong with a trendy teeny-tiny bag with a lovely touch. With two tassels and charming bow detail, it's a great buy for those of you looking for fashionable and trendy gifts for twenty-something women. Buy this cute, chic, and trendy tiny bag and spoil your loved women today.
---
6.
Marc Jacobs Daisy Eau So Fresh Gift Set
If your girlfriend, sister, daughter, or BFF is obsessed with MJ's Daisy scents, then this Marc Jacobs Daisy Eau So Fresh Gift Set is the sweetest gift that you need to get them. This amazing gift set including perfume, lotion, and shower gel, perfect for gift giving or receiving. Best Gift Ideas for Women in Their 20s.
---
7.
Bath Bombs Gift Set of 6 Extra Large Premium Pack in a Deluxe Package
Pamper your loved ones with a deluxe bath bomb gift set that will fill their bathroom with fragrant scents! Aluxurious package of 6 essential oil bath bombs not just enhance their wellness, it makes your loved one smile from their heart upon receiving this exquisite gift. Great gifts for 20 somethings under $25.
---
8.
Clarisonic Mia 2™ Facial Cleansing System
Who doesn't like receiving a gift that will enhance her features? The Clarisonic Mia 2™ is the best cleanser device to clean up the skin and let it look brighter, softer, and healthier. Women who want to have beautiful looking skin will definitely LOVE this fabulous daily sonic facial cleanser. It is one of the best birthday gift ideas for 20-year-old female college student
---
9.
The Dyson Supersonic™ Hair Dryer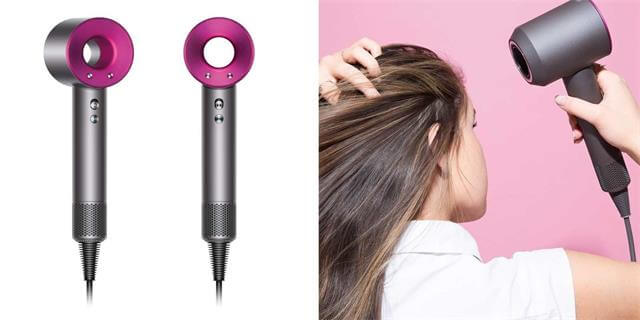 Looking for exciting gifts for twenty-somethings ladies? You've got the one. Dyson Supersonic™ hairdryer is a hair dryer with a powerful, high-speed, brushless digital motor and it delivers intelligent heat control for shine. A dream hair dryer that perfect for every woman. It was an incredible hairdryer with lots of great features, and we recommend it! Ultra-Fast Drying, light in weight, and intelligent.
---
10.
Ovente 7.5 Inch SmartTouch LED Lighted Magnifying Mirror
Most of the women wish to turn to put on makeup into an effortless, quick, and enjoyable task. So, they need nothing more than a SmartTouch Led Lighted Magnifying Mirror, and it will be a savior more than a gift. The Ovente Smart-Touch Makeup Mirror is a premium mirror with lots of new techs, and it is certainly a great gift to help women achieve a flawless makeup result!
---
11.
Fitbit Alta HR, Fuchsia, Small
If you're looking for an amazing fitness tracker as a gift for a young sportive woman, then now it's the time for you to give her a Fitbit Alta HR. Its value comes from powerful features with a smart and seamless design. Stylish, Fit, and Functional.
---
12.
Jabra Elite Sport Ture Wireless Earbuds
Jabra Elite Sport Ture Wireless Earbuds are the cool gifts for 20 somethings and let them enjoy their favorite music freely while running, cycling, hiking, doing yoga, or even just shopping. If you're picking gifts for twenty-year-olds who like music and are looking for high-quality earbuds, this the perfect choice!
---
13.
Amazon Echo
If the woman you loved likes music, give her the gift of  Amazon Echo. It is an intelligent hands-free speaker that can be controlled with voice. With the Alexa Voice Service by Amazon, it plays music, sends and receives messages, makes calls, provides information on news, weather, sports scores, and more—instantly. All she has to do is just ask!
---
14.
Polaroid Snap Touch Instant Print Digital Camera
Polaroids are back with its new Snap Touch Instant Print Camera which features the Zink Zero Innovation with Bluetooth technology and a smart touchscreen LCD display. It's pocket-friendly and sure to satisfy tech-savvy photographers.
---
15.
Layngo COSMO Cosmetic Bag, Zigzag
It's like MAGIC- A soft cosmetic bag instantly turns into a clean, dry workspace for makeup. Perfect gift idea for any twenty-something women who love makeup or travel a lot. With this amazing LAY/N/GO cosmetic bag, her cosmetic collections can be easily spread out on the LAY/N/GO surface. Best gifts for twenty-year-olds who love makeup.
---
16.
The Curated Closet
The Curated Closet is a great book that helps women to discover their personal style and building their dream wardrobe. It is an ultimate practical guide that fashion-loving women will go wild for.
---
Read More:


Disclosure: We are an affiliate of the products and services covered in this site. If you purchase through our link, we get paid for the referral at no cost to you. Please read our disclosure for more info. I sincerely thank you for your support.