60th Birthday Gift Ideas for Women (19+ Gifts for A 60-Year-Old Woman)
Thoughtful and fabulous 60th Birthday Gift Ideas for Women from HAHAPPY Gift Ideas.
Women over 60 always love to receive meaningful 60th birthday gifts that show how much their family or friends care about them or something that will bring beauty or relaxation to their lives.
So, whether you're looking for 60th birthday gift ideas for your mum, wife, sisters, or best friends, here are some great choices for your consideration – From sentimental sculpture to memorable photo frame, blooming tea set, delighted gift basket, touching poem frame, elegant pearl earrings, and some much more tender gifts for a 60-year-old woman.
60th Birthday Gift Ideas for Women
The Best Gifts for A 60-Year-Old Woman Are:
Wi-Fi Cloud Digital Photo Frame
Happy 60th Birthday Angel Figurine
14k White Gold Tahitian Cultured Pearl Hoop Earrings
Silk Kimono Robe Long
Alpaca and Sheep Wool Blanket
Bulova Women's Silver Watch Set
Personalized Custom Family Branch Tree Heart Necklace
Gifts for a 60-Year-Old Woman – Luxury Bathtub Caddy Tray
Fitbit Sense Advanced Smartwatch
Silk Pillowcase And Eye Mask Gift Set
Garden Kneeler and Seat Stool
Shiatsu Foot Massager Machine
Teabloom Complete Blooming Tea Set
Touching Poem Frame For Mother
60th Birthday Gift Basket Delight
60th Birthday Gift Ideas for Women – Bliss Gardens Air Plant Terrarium Kit
60th Birthday Gift Ideas for Women – Funny 60th Birthday Mug
60th Birthday Gift Ideas for Women – Indoor Herb Garden
60th Birthday Gift Ideas for Women – Amazon Fire TV 
60th Birthday Gift Ideas for Women – Pin it if you love our picks!
What is a good 60th birthday gift ideas for women?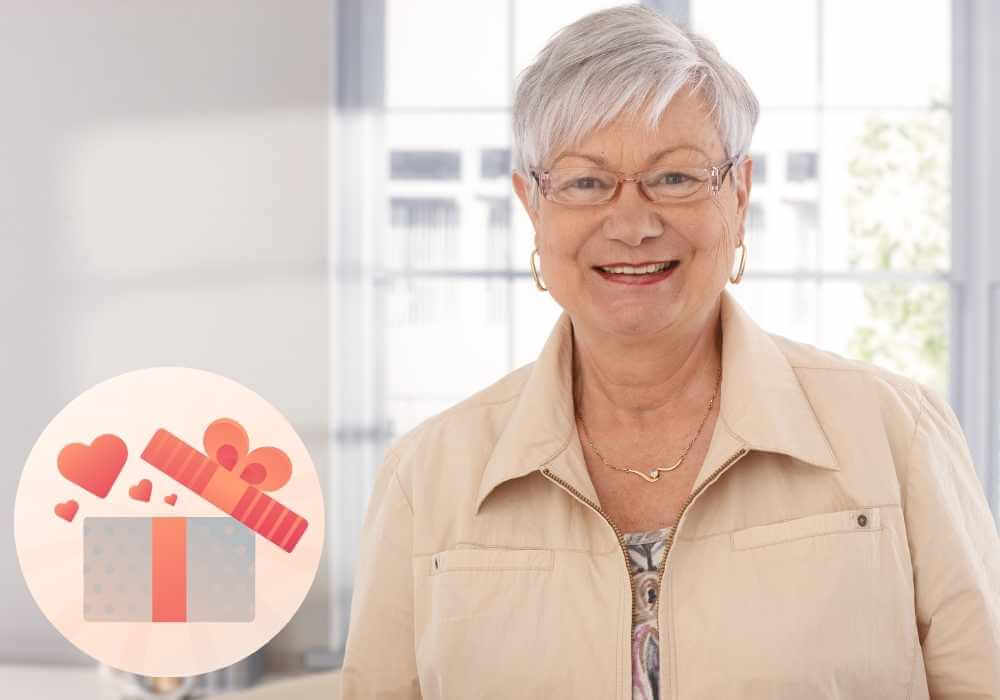 Hobby-Related Gifts

Many women over 60 may choose to retire or work part-time, and they will suddenly find themselves with endless hours to spend with whatever they desire! Staying physically and socially engaged is especially important for seniors. As a result, choosing a present that will assist them in furthering their hobby would be appreciated.

Jewelry Gifts

Despite what many misconceptions about aging say, many women over the age of 60 still like jewelry which makes them look great and elegant.

Health-Related Gifts

Nothing is more vital than staying healthy after the age of 60. They are happier to have a gift that helps them feel good with the body and stay healthy.

Personalized Gifts

Turning 60 is an impressive milestone, and she deserves an impressive gift. Go with something personalized to impress the birthday ladies.

Family-Related Gifts

Nothing is more precious than family, regardless of age. Send her a gift that makes her feel closer with the family on her 60th birthday.

Food and Drinks Gifts

If she is a hard-for-shop person, you can't go wrong with a food and drinks gift that goes with her taste. Of course, keep dietary restrictions, food allergies, and preferences in mind.
What is the traditional gift for 60th Birthday?
The traditional 60th Birthday Gift Ideas for Women is a diamond, just as the wedding anniversary gift is given after six decades of marriage. However, not everyone can afford – or desires – actual diamonds, it's totally appropriate to offer your loved one a diamond-inspired gift, or something meaningful gift in silver.
Of course that you don't need to follow the tradition when you can be creative and give her something fun and unique for her 60th birthday.
What is the best flower for the 60th birthday celebration?
Isn't the first image that comes to mind when giving flowers at a 60th birthday party a bouquet of red roses? Because red is the theme color for a sixtieth birthday, 60 red roses would be a fantastic gift.
What to get the 60th woman who wants nothing?
Something funny and sentimental will be a good choice for the woman who wants nothing on her 60th birthday.
It's also a time to send an experience gift to her if she already has anything. Is there a special area she'd like to visit? You may spend your time with her on a day trip or weekend adventure with you. A boat trip is also a good option.
---