60th Birthday Gift Ideas for Women (Amazing Gifts for A 60-Year-Old Woman)
Thoughtful and fabulous 60th Birthday Gift Ideas for Women from HAHAPPY Gift Ideas.
Women over 60 always love to receive meaningful 60th birthday gifts that show how much their family or friends care about them or something that will bring beauty or relaxation to their lives.
So, whether you're looking for 60th birthday gift ideas for your mum, wife, sisters, or best friends, here are some great choices for your consideration – From sentimental sculpture to memorable photo frame, blooming tea set, vintage vinyl record player, elegant Kimono robe, elegant pearl earrings, and some much more tender gifts for a 60-year-old woman.
60th Birthday Gift Ideas for Women
To Save Your Time: The TOP 5 60th Birthday Gift Ideas for Women
There are so many great gift ideas for women turning 60 this year. But sometimes you've got no time to think about what she might like, whether it's because you are on the last minute or short on cash. The good news is that there are some gifts out there that no woman will ever say "no" to-even if every gift idea in the world fails! What do I mean? Well here is a list of the top five 60th birthday gift ideas for women that any woman will love.
Our Favorite 60th Birthday Gift Ideas for Women That She'll Like
When you are shopping for a 60th birthday gift, you may want to start with who she is. If she is your mom, you probably have a clue. If she is your wife, you probably already know what she likes. If it's a family friend, you may be able to call someone she has worked with or one of her children and find out some information that might help you choose the right 60th birthday gift.
If none of those things are available to you, then why not choose something based that is sentimental or just with fun? A 60th birthday gift for a woman is all about looking towards the future and celebrating another decade of life.
Below are some great categories for you to pick off your gift hunting:
Personalized Custom Family Branch Tree Heart Necklace
Brooch Pins Rhinestone with Austria Crystal Jewelry
Multicolor Freshwater Cultured Pearl Necklace
Cushion-Cut Stone Stud Earrings
Bulova Women's Silver Watch Set
For The Music Lovers – Vintage Vinyl Record Player Turntable
If She Loves To Cook – 9-in-1 Deluxe XL Cooker
For The Gardeners – Garden Kneeler and Seat Stool
For The Yoga Woman – Complete Yoga Mat Gift Set
If She Loves Pinice – English-Style Willow Picnic Basket
For The Golfers – Indoor Golf Putting Green Mats
For The Artists – Deluxe Artist Painting Set
For The Cheese Lovers – Cheese Board Set
For The Florist – Handmade Footed Round Vase
If She Loves Drink Tea – Teabloom Complete Blooming Tea Set
100% Cashmere Poncho- Made in Italy
Bulova Women's Silver Watch Set
Michael Kors Women's Jet Set Travel Large Chain Shoulder Bag
Kate Spade New York Women's Lulu Rectangular Sunglasses
Shiatsu Foot Massager Machine
3-in-1 Mesh Infrared Heating Pad
Alpaca and Sheep Wool Blanket
Fitbit Sense Advanced Smartwatch
Silk Pillowcase And Eye Mask Gift Set
60th Birthday Gift Ideas for Women – Bliss Gardens Air Plant Terrarium Kit
60th Birthday Gift Ideas for Women – Hand-Dipped Forever Rose
Family Tree with 12 Hanging Picture Frames
Gifts for a 60-Year-Old Woman – Luxury Bathtub Caddy Tray
Hand-painted Artisan "60 and Sassy" Wine Glass
Family Birthday Calendar Board Sign
Touching Poem Frame For Mother
60th Birthday Gift Basket Delight
60th Birthday Gift Ideas for Women – Funny 60th Birthday Mug
60th Birthday Gift Ideas For Women – FAQs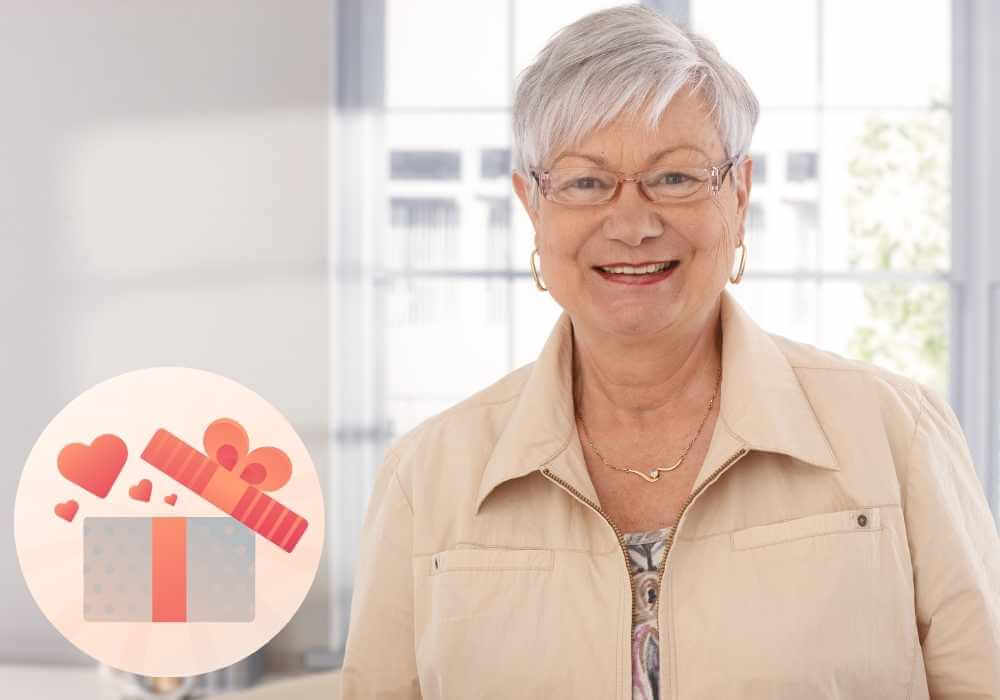 What is a good 60th birthday gift ideas for women?
A good birthday present is hard to find. There are two questions to ask before you can buy her a gift-What do I need to know about the person? What would make them happy? Questions like "What are her hobbies?" and "What does she like to do for fun?" are crucial in figuring out what to get her. You can find some great ideas online, or you can ask for advice from other people who know your friend or family member well.
What is the traditional gift for 60th Birthday?
The traditional 60th Birthday Gift Ideas for Women is a diamond, just as the wedding anniversary gift is given after six decades of marriage. However, not everyone can afford – or desires – actual diamonds, it's totally appropriate to offer your loved one a diamond-inspired gift, or something meaningful gift in silver.
Of course that you don't need to follow the tradition when you can be creative and give her something fun and unique for her 60th birthday.
What is the best flower for the 60th birthday celebration?
Isn't the first image that comes to mind when giving flowers at a 60th birthday party a bouquet of red roses? Because red is the theme color for a sixtieth birthday, 60 red roses would be a fantastic gift.
What to get the 60th woman who wants nothing?
Non-material gifts which are funny and sentimental will be a good choice for the woman who wants nothing on her 60th birthday.
It's also a time to send an experience gift to her if she already has anything. Is there a special area she'd like to visit? You may spend your time with her on a day trip or weekend adventure with you. A boat trip is also a good option.
How much should you spend on her 60th birthday present ?
This is a difficult question to answer because it really depends on your financial situation and how close you are to the person in question. If she is your wife or mom, we recommend spending somewhere between $200-$500. If she is your sister or best friend, you may consider spending $75-$200. If she is your relative or coworker, $20-75 would be more appropriate.
What NOT to give as 60th celebration gifts?
Do not get her cash as a 60th birthday present. It is because cash is sometimes uninteresting. It may be because it has no sentiment attached to the gift. And do not give her some gift cards. Gift cards may be impersonal for her big milestone.
How to celebrate her 60 milestone in style?
Here are some ideas about how to make her 60th birthday unforgettable:
Throw a 60th Birthday Party: Put together an unforgettable party with the help of friends and family members if your budget allows it. Serve some specialties on her special day and book a karaoke room for those who want to belt out their favorite tunes all night long.
A trip to Greece: If you have the money, give her a trip to Greece. She deserves it!
A private dinner party: Invite some friends and cook them up a nice Italian feast.
A trip in a hot air balloon: This is a great 60th birthday gift idea for the woman who has everything because it's an amazing experience she probably won't ever have again.
A spa weekend: Treat her to a relaxing few days at the spa. She'll be so relaxed and rejuvenated, she'll feel like a new woman.
A round of golf: If she's a golfer, this is definitely an idea worth considering. However, if she's not into sports at all it might not be such a great birthday gift ideas.
Cruise: If your mom isn't really into spa days or golf, take her on a cruise! This can also be an opportunity to spend time with the whole family.
A picnic day with all family members: If you're on a tight budget, go for a picnic day. It's super cheap and it will be great family time too with all the kids!
A tour of the city: If she loves the idea of spending time outdoors but isn't into sports, this is another great idea.
(Related Posts: Celebrate Mom's 60th Birthday: 11 Things To Do (With Tips))
60th Birthday Gift Ideas for Women – Conclusion
We hope this list of 60th birthday gift ideas inspires you to go out and find the perfect present for your loved one. It's never too late to manifest their heart's desire! This is a once-in-a-lifetime celebration, so why not give them a great gift that will provide memories they'll cherish forever? What are some other ways you've found success in giving meaningful gifts? Share with us below!
60th Birthday Gift Ideas for Women – Pin it if you love our picks!
60th Birthday Gift Ideas for Women – Related Post
---