60th Birthday Gift Ideas For Men (50+ Impressive Gift Ideas For Men Turning 60)
If you are looking for 60th birthday Gift Ideas For Men Turning 60 this year, look no further. Whether he is your dad, husband, brother, or uncle, reaching age 60 is really special and should be celebrated with the best gift that doesn't fall short of amazing, and of course, with love.
So, let's celebrate his 60th Birthday with our perfect gift ideas below – From traditional 60th birthday gift to personalized gifts, through to funny and unique gift ideas, HAHAPPYGIftIdeas.com have some good ideas for all.
In this gift guide, you will find:
What you need to know about the age of 60
The Top 5 gift ideas for 60-year-old men
Our favorite 60th gift ideas for men:

Hobby-Related gifts
Style-Related gifts
Health-Related gifts
Personalized gifts
Tech-Related gifts
Gift for 60 year old man who has everything

What you need to be consider when looking for a gift for a 60-year-old man
Some common questions about shopping the gifts for men at 60
(Hahappygiftideas is supported by its audience. As an Amazon Associate, this post may contain affiliate links, we earn small commission from qualifying purchases at no cost to you.)
60th Birthday Gift Ideas For Men – What You Need To Know About
Before we drive into the detail of our gift ideas, there are a few things you may need to know as a general starting point.
First of all, why it's important to celebrate the 60th birthday of men?
Well, this is a milestone and it's something very special. With his life behind him, this is a time for him to look back and maybe take stock of the life he has lived. This will be different from those in their 40s, as those years are still about moving forward, but now it's all about measuring up and self-reflection.
Also, it is worth bearing in mind that for this milestone birthday it is likely that they would like to mark the occasion with their family and friends – whether it be with a big party or just a dinner with the family.
Related Post:17 Things to Do For Dad's 60th Birthday (Fun & Creative)
If You're In A Hurry: The Top 5 60th Birthday Gift Ideas For Men
Here's a list of the top 5 gift ideas for men, which includes the most requested gift from a senior man. Later on in this list, we'll go into further depth about why we love them. Scroll down below to check them out and you will be pleasantly surprised!
Image
For Who
Details  
Price
For the men who love outdoorsy
Product: Spotting Scope with Tripod
Note: This spotting scope features a strong zoom magnification that allows him to enjoy the great wild nature.
Check Price
For the men who enjoy music
Product: Built-in Stereo Speakers – Turntable
Note: This stunning Wooden Music Center has eight different ways to play his favorite music!
Check Price
For the men who enjoy a cup of whiskey
Product: Whiskey Decanter Ship Globe Set
Note: Hand-blown whiskey decanter dispenser with engraved globe pattern and antique ship in the bottle will definitely improve his drinking experiences.
Check Price
For the stylish men who need extra warmth in the cold winter
Product: Cashmere Scarf
Note: He may show his style in a variety of ways thanks to the plain fabric, solid versatile colors, and longer, soft texture.
Check Price
For the men who want to display his favorite watch in a nice place
Product: Watch Case Display Storage Box
Note:  Its transparent viewing top protects his watch collection from dust and elegantly displays their vintage watches.
Check Price
Our Favorite 60th birthday Gift Ideas For Men
Below are our favorite gift choices for 60th Birthday Gift Ideas For Men to help you find the ideal gift. Whether you're looking for your dad, husband, grandfather, uncle, brother, or friends, you'll find something to inspire you in our selection of gift ideas below.
A 60th birthday is unquestionably one of the major milestones in one's life. However, just because it's a special day doesn't mean there's a gift that suits all. With this in mind, men in their 60 may have different hobbies, lifestyles, health conditions, and interests. So, we have here an ultimate list that will fit most of the men who're turning to 60, and the gift ideas below are both enjoyable and practical.
And to make our list more user-friendly, we have categorized our gift ideas as below:
Hobby-Related Gifts For 60-Year-Old Men
Finding a perfect 60th birthday gift for men can be difficult. Fortunately, there are so many different options when it comes to the perfect gift ideas for men – you just have to figure out what he is interested in! Check out our list below of hobbies-related gifts for him and find the perfect one that will add oomph into his life. Happy hunting!
Spotting Scopes with Smartphone Adapter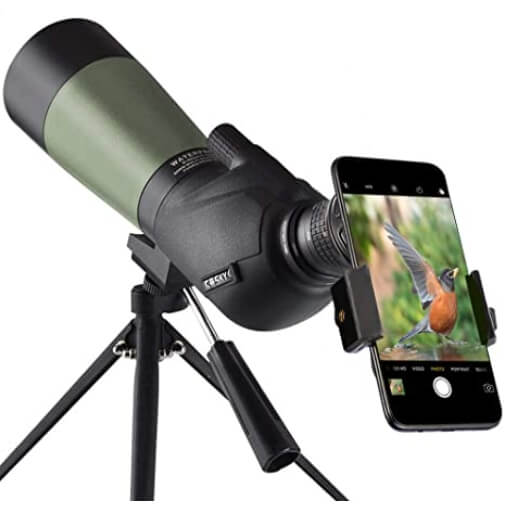 Looking for gift ideas for men who love outdoor activities? This Spotting Scope allows him to easily capture zoomed-in images with his smartphone, and the powerful magnification ensures a clear view!
This is a fantastic way for the outdoor 60-year-old retiree to pass the time while also sharing his adventure photos and videos with his family and friends.
(Relate post: How To Celebrate Dad's Retirement -17 Fun Ideas Dad'll Like)
Vintage 8-in-1 Bluetooth Record Player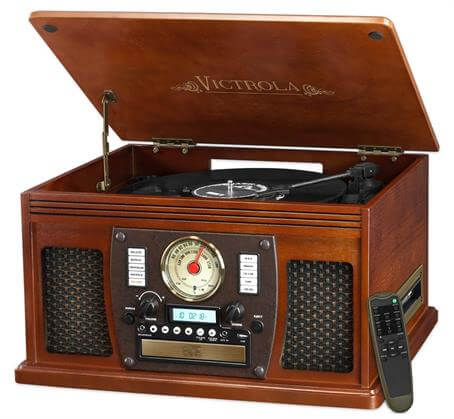 If you're searching for nostalgic gift ideas for your dad, husband, or brother, this beautifully crafted Victrola 8-in-1 wooden record player — with luxurious real wood construction — will instantly remind him of his analog musical youth. He will enjoy playing all of his vinyl records and favorite Albums.
Related post: How To Make Your Dad's Birthday Special (21 Ideas With Tips)
Whiskey Decanter Ship Globe Set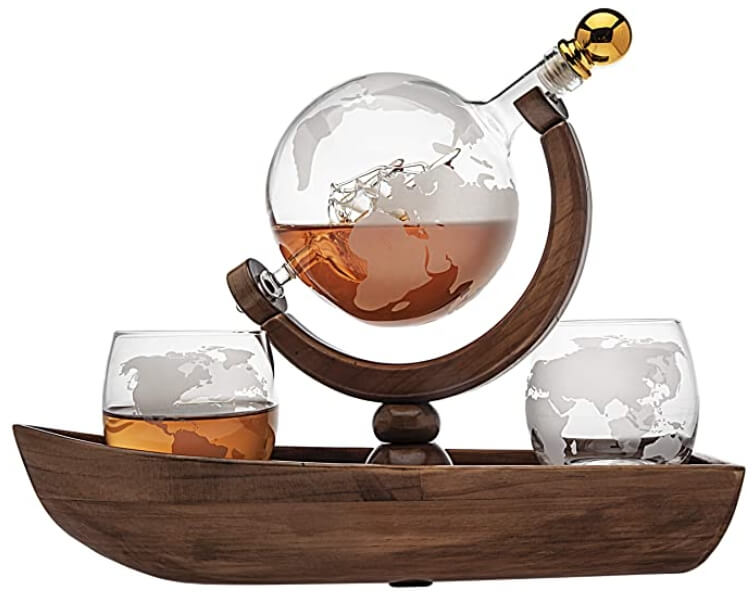 Looking for impressive gifts for the whisky drinker? There is no better way to celebrate his 60th birthday with this beautiful hand-blown whiskey decanter ship globe. It will certainly improve his drinking experience while making a strong statement.
Portable Garden Kneeler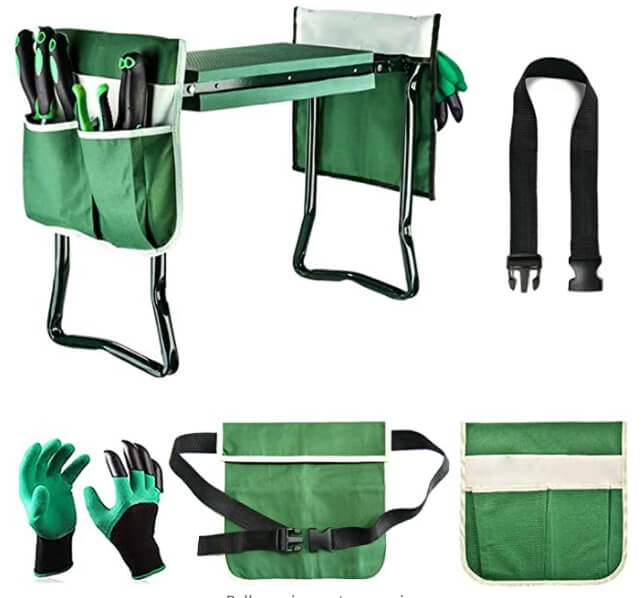 Is the 60th guy practically a gardener after his retirement? Give him this kneeling bench set to make her gardening life easier. This ultimate gardening too set is a one-of-a-kind and functional gift that makes gardening easier.
Related Post: 34 TOP Gardening Gifts & Gift Ideas for Gardeners Of All Types
---
Stanley The Outdoor Growler Gift Set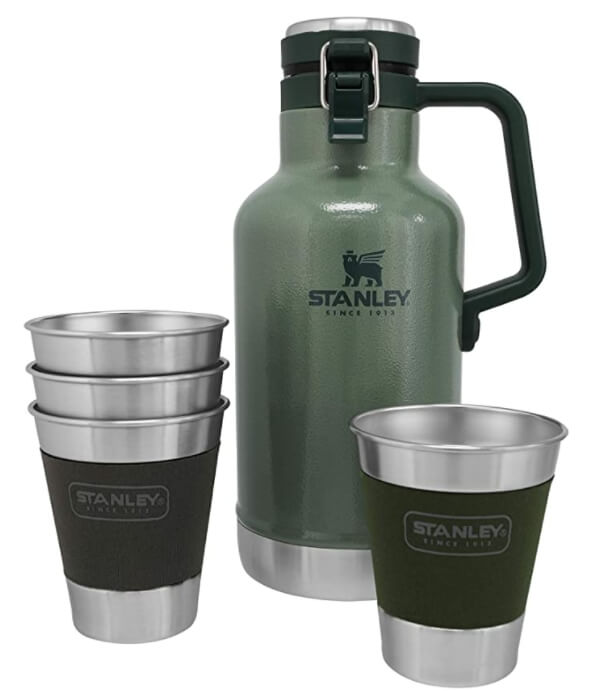 If he enjoys hiking or camping, this growler gift set is one of the best things for him. Because it keeps brewed cold for 24 hours and iced for up to 4 days, he will always enjoy his favorite drink on the go.
Coffee Maker with 4 Brew Styles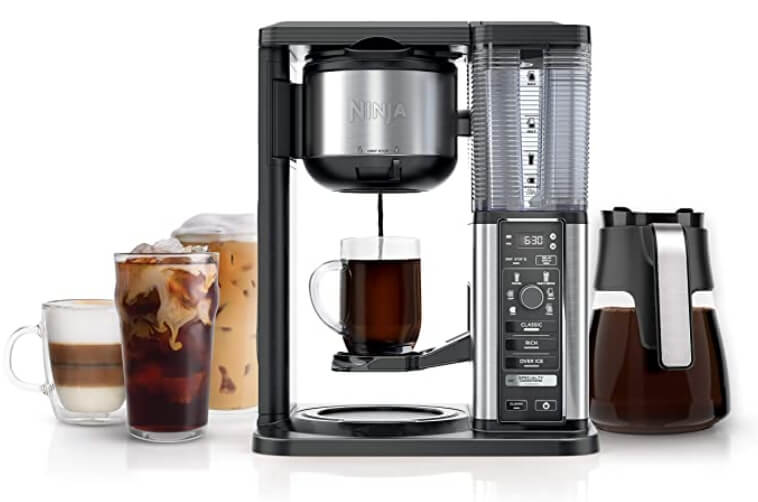 What is a good gift for men who can't live with a cup of coffee? A coffee maker!
This easy-to-use coffee maker from Ninja makes a super-rich coffee concentrate to make delicious lattes, macchiatos, cappuccinos, and other coffeehouse drinks.
---
Golf Push carts 3 Wheel Folding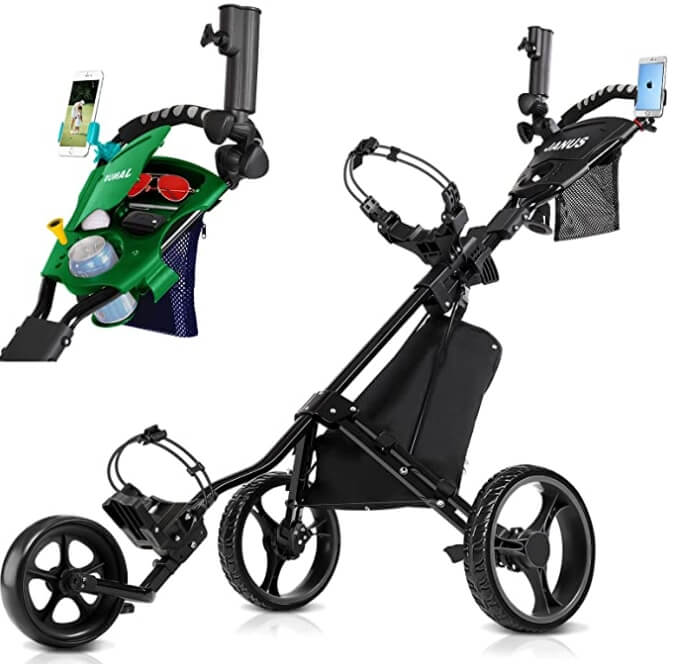 After turning 60, he may spend his days on the golf course. Make sure the golf lover in your life has the perfect gift for his birthday. This 3 Wheel Golf Push Cart will be a wonderful gift that helps distribute the weight of his heavy golf bag and enhances effortless mobility and storage.
Fishing Rods and Reels Travel Carry Case
Finding useful gift ideas for men who are fishing lovers? This is one of the best gifts to pamper him.
The most challenging part of fishing is transporting all of the necessary equipment to your chosen fishing spot. This organizer bag makes it a whole lot simpler with space for five rods and reels on the outside and more room for equipment on the inside.
---
Diablo Dos Hunting Backpack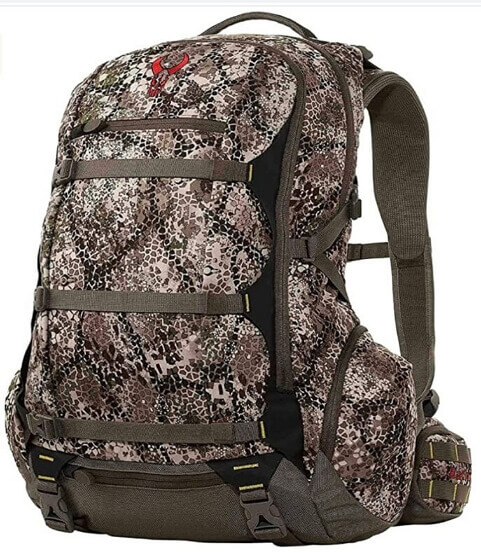 When it comes to the gift ideas for men turning 60, few can match this backpack. But if the birthday man is a hunting guy, that's a perfect birthday present for him. It makes it easy for hunters to carry high loads, has plenty of pockets and plenty of room for organized stocking of all the accessories.
Related Post: 41 Cool Hunting Gifts For Hunters (Hunt The Best Gift!)
Recreational Cycling Helmet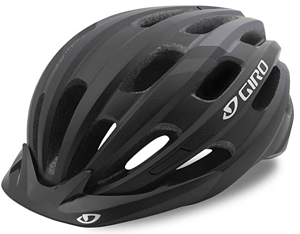 Does he want to spend more time riding his bike outside? Many 60th have more time than they did previously, and they would want to put it to better use by exercising more. To keep himself safe, he'll need a strong helmet. This helmet features a Multi-Directional Impact Protection System, which is used to divert energy in an accident. This is one of the useful and enjoyable gift ideas that will encourage him to bike and get into fitness again.
Cocktail Beer Dispenser
Have a beer man on your gift list? There's nothing like the coolest mini kegerator ever to make a beer lover super happy on his 60th birthday! He can make his own drink recipes with the Ultrasonic Vibration Micro Foamer by simply pressing the switch and inserting it into the beverage.
Watches Storage Box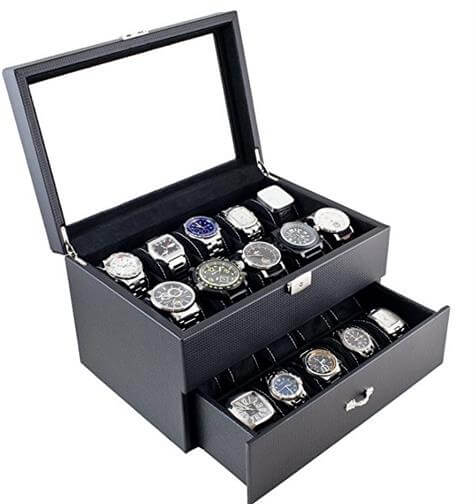 If your man is a watch collector, he will need a nice watch storage box to keep the exclusive watch collection that he collected over the past 60 years, right? This high-quality carbon fiber fabric watch storage case will protect all his watch collections from dust and beautifully display his classic timepieces. It is also one of the best practical gifts for who is a watch collector.
Wheeled Travel Bag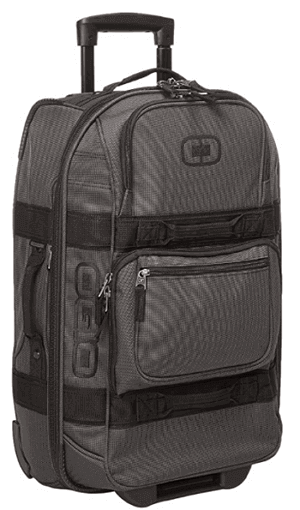 He may have more leisure time for a short trip after his retirement at the age of 60. With the versatile OGIO® Layover bag, he can take his travel in style. It is also one of the best birthday gift ideas for men who love travel.
Style-Related Gifts For Men Turning 60
If you know your loved one is picky and stylish, you can go for something that will not only look good but also last a long time. We have carefully selected the gifts with great style and built to last so they remain sturdy and stylish-perfect for the man turning 60 this year! So, check out our list of suggestions below!
Cashmere Scarf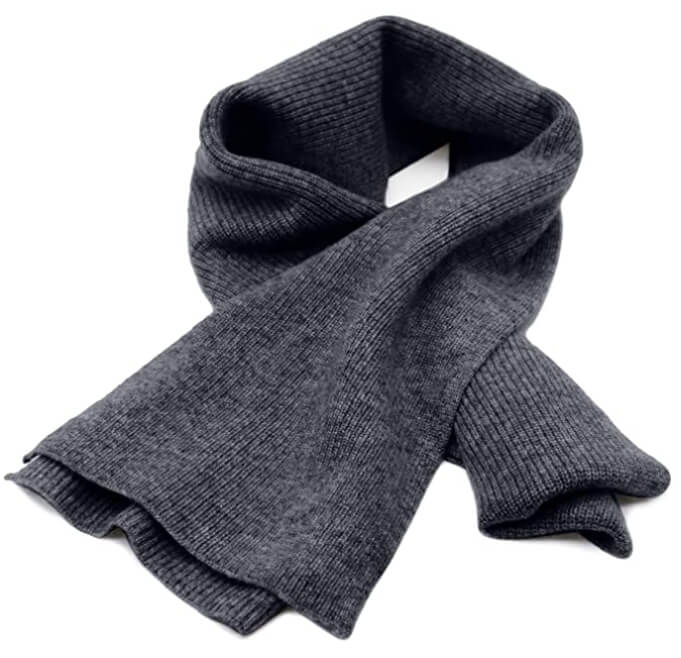 Give him some extra warmth this winter. This luxurious classic ribbed solid Scarf t is made of 100% Cashmere, making it great for every man who is turning 60. It is a sure way to show him how much you care about him by gifting him this super-soft and comfortable scarf.
Men's Cashmere Full-Zip Sweater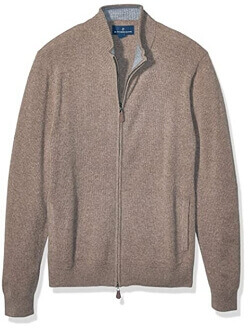 This soft sweater would make a fantastic 60th birthday gift that he can wear daily! On winter days, a zip sweater is the greatest comfort. It's a must-have for his wardrobe, and he will love how comfortable and lightweight this wonderfully soft cashmere full-zip sweater is. It is excellent on its own or as a layer beneath a jacket or coat.
---
Wool Blend British Ivy Cap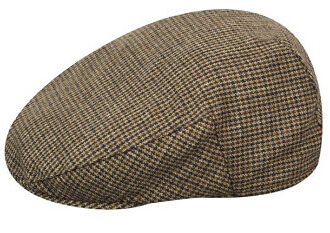 This easy-to-wear Ivy cap is made of wool blend and features a traditional short brim that is durable and lasts. It looks great on everyone who wears it, and the best thing is that it comes in various colors. It's perfect for men who are turning 60—a great gift for any occasion. It certainly will make the 60th birthday boy look as dashing as ever.
Leather Jacket
A stylish and chic leather jacket is always an excellent choice for men of any age. This classic leather jacket comes with an avant-garde removable real shearling collar, which makes him look like a cool rock star even during cold winter days! Not to mention, it's a great gift for any man turning 60 who enjoys stylish things.
Raymond Weil Freelancer Automatic Watch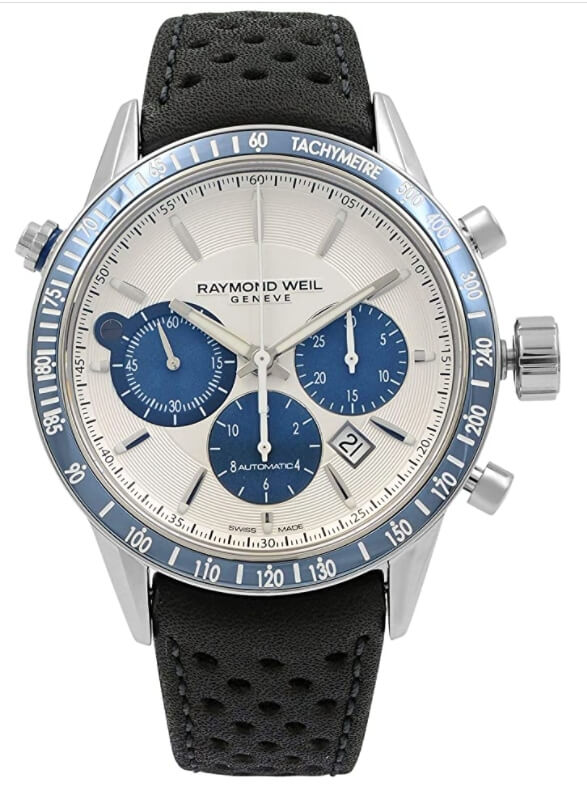 It is just the right time to show him your timeless love by gifting him a prestigious timepiece in a stylish style. If your budget allows, go ahead to spoil and surprise him with this Raymond Weil Automatic Watch which features a Silver dial enhanced by luminous silver-tone hands. Classy, smart, and exclusive. Just like him.
Shawl Collar Robe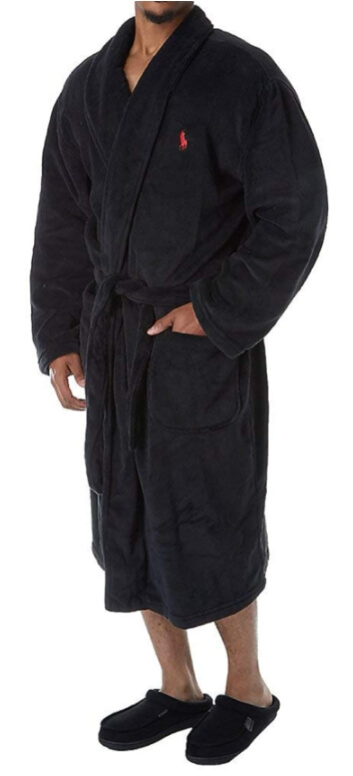 If you're going to give him a robe that makes him feel comfy after the bath, then make it a really nice one. This Men's Luxury Bathrobe brings comfort and elegance to him. Warm, durable, and easy to care for.
UGG Men's Ascot Slipper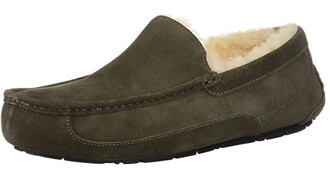 This slipper is ideal for those freezing winter months when your man wants to take a walk outside in the cold winter.
It is one of the best-selling men's styles from UGG and a perennial favorite. This slipper is made of luxurious wool and water-resistant suede, and it features a molded rubber outsole that is suitable for both indoor and outdoor use.
Silk Tie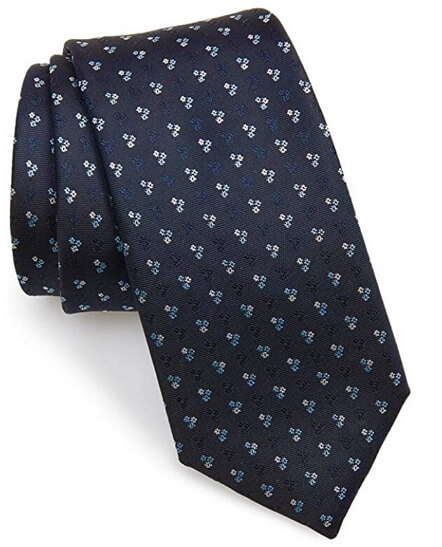 If the gentlemen are always in Hugo Boss's shirt, then you can't go wrong with this geometric woven Italian silk tie. It will add a fun pattern to his wardrobe and he is likely to appreciate this gift as it helps upgrade his style in an awesome way.
Health-Related Gifts For 60-Year-Old Men
Turning 60 is a great landmark for him and makes it the perfect occasion to get healthy. Our list below will help you find thoughtful birthday gift ideas that are perfect for men who are aging and need some support to prolong their healthy life. So, check them out and choose the best for him!
Heating Pad with Far Infrared Radiant Heat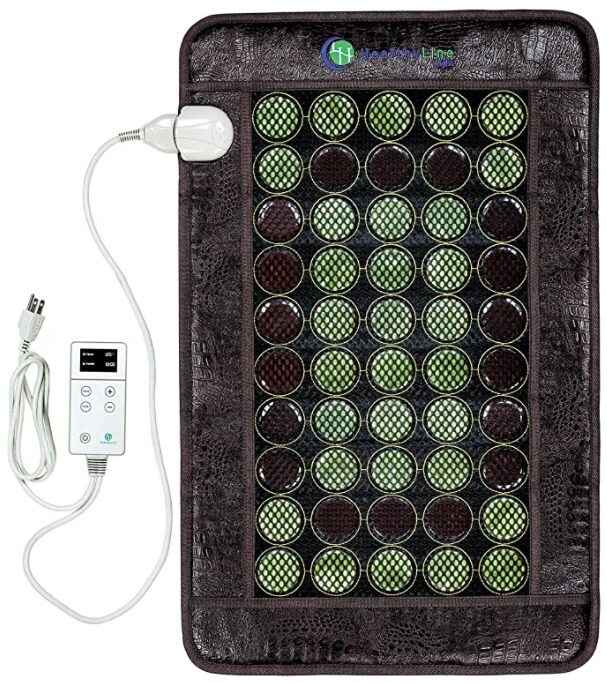 This functional heating pad is ideal for those who suffer from muscles aches and pains.
It's a perfect way to finish the day by using this infrared heating pad before bed. A wonderful gift for your sixty-year-old father or father-in-law. He'll appreciate your thoughtfulness.
Massage Gun
With this portable massage gun, he can enjoy a good muscle relaxation session anywhere. He will pinpoint the area to focus on with the right head, which has several heads for different muscles. It is one of the great choices of birthday gifts for a man who suffers from muscles pain and needs some relaxation.
Foot Massager with Heat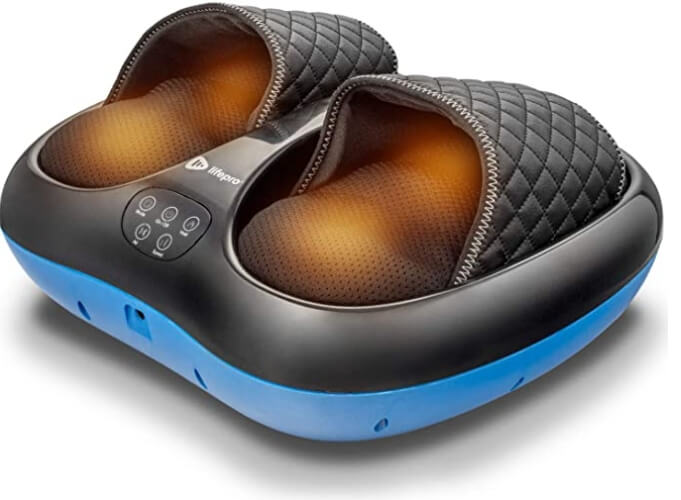 Allow the 60-year-old man to unwind with a foot massage in the privacy of his own home and experience foot pain relief in minutes
This is a perfect and useful gift idea for men who suffer from tired and aching feet. He will appreciate it after a long day walk or hiking.
Bucket Towel Warmer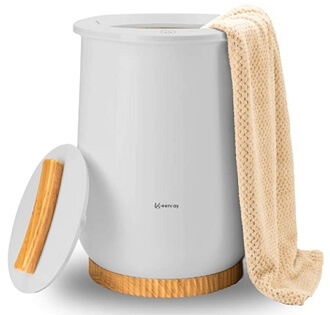 Look no further if you're looking for a gift for those who can't stand for the freezing winter after bathing. This towel warmer is the ideal gift to make his shower or bath even more relaxing and enjoyable. It warms for up to an hour before shutting off automatically for safety.
Full Body Massage Chair Pad
For those 60-year-old men who have aching muscles, this Full Body Massage Chair Pad is the ideal gift for them! You may program this massage pad to target a specific area of your back and neck.
Spot massage allows you to focus on specific regions of discomfort, such as the shoulder or lower lumbar. Shiatsu massage may be enjoyed at any time on a sofa, recliner, couch, office chair, or dining chair.
Digital Wi-Fi Smart Scale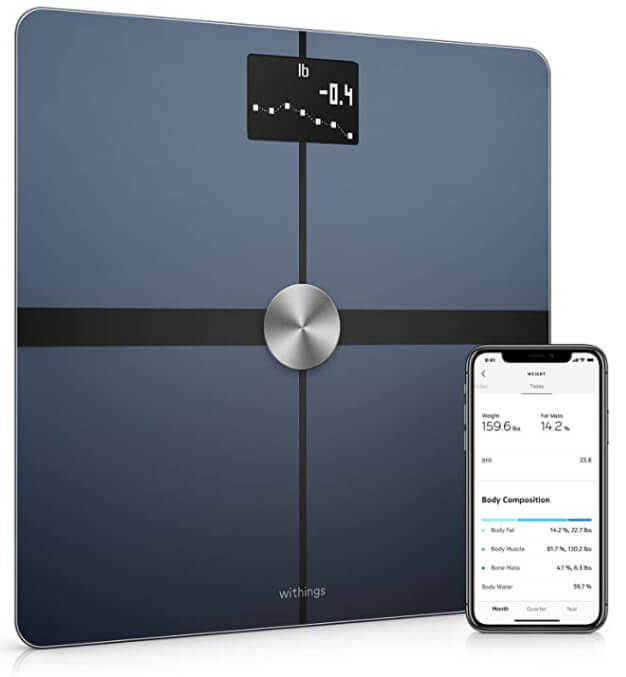 Are you looking for tech gift ideas for men who are health-conscious? This smart scale will tell you what you need to know about your body composition.
Simply step on the scale, and it will provide you with details on the important health metrics, including highly accurate weight & weight trends, BMI, full body composition, and much more.
 Alpaca and Sheep Wool Blanket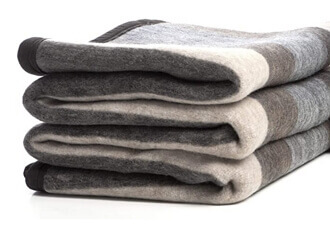 Is he always enjoy napping in the afternoon? Does he like to have extra comfort in his own home? This beautiful blanket is a fantastic gift for him.
It is thick, soft, warm, and breathable by combining alpaca and sheep wool. Alpaca wool is so thin and sheep wool fibers are alike, they mix wonderfully! The wool is also brushed to give it a polished, extremely soft feel.
Personalized 60th Birthday Gifts
Make His big birthday special with a personalized gift. Here we've handpicked some of the best-personalized gift ideas for your "aging" husband/dad/brother/uncle/friend. You can always try to ask him what he would like as a gift, but if you want something really special, you can always go for a personalized gift.
Personalised 24K Gold Leather Money Clips Ballpen Gift Set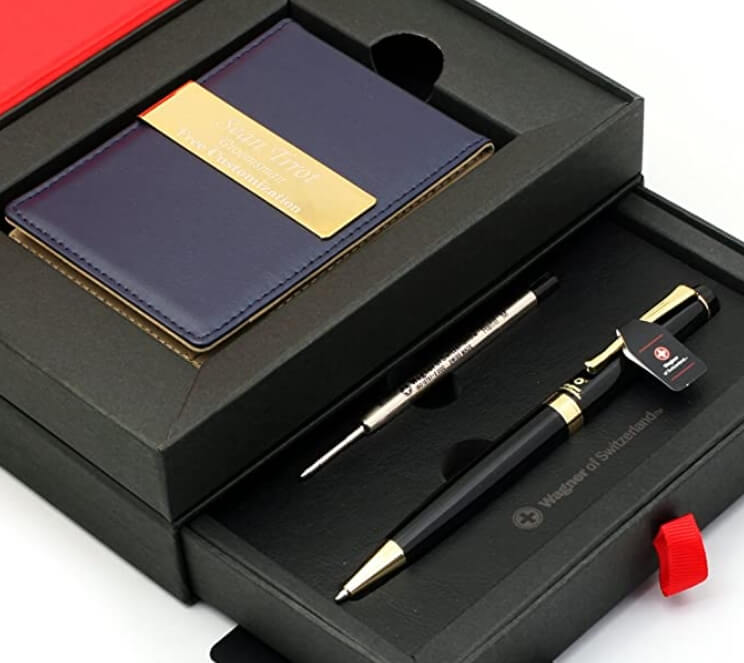 Because it's unique, refined, especially classy and exclusive. This personalized Money Clips and Ballpoint Gift set offers free laser engraving that shows up with a maximum of 20 characters. What's more, it comes with a beautiful Cross gift box, making it a great and unique 60th birthday gift for a man who loves to write.
Laser Etched Recycled Wood Wine Carrier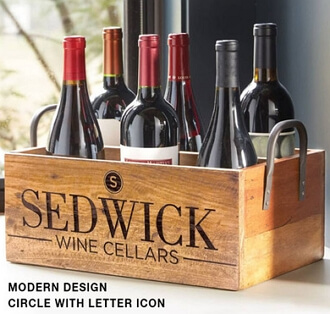 This is definitely an unexpected and unique gift for wine lovers who are turning 60. This wine carrier is made from 100% recycled wood, so it's especially eco-friendly. It features a laser-etched of his name, making it a thoughtful gift to celebrate his 60th birthday. It's a perfect way to keep his wine bottles protected and organized, while also giving him something he can be proud of!
Personalized Flask Set
These Personalized Stainless Steel Flasks make great 60th birthday gifts for any man who likes to party! It comes with FREE custom engraving – you can engrave any text you like. These flasks set are manufactured with extra thick 5mil, premium 18/8 grade #304 stainless steel – are TRUE stainless steel that does not rust even under heavy use!
Personalized Leather Wallet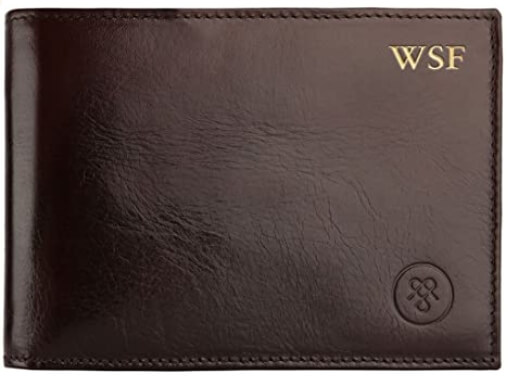 Turning to 60 is a very special stage for a man, so sometimes, all they want as a gift is something personalized but useful, just like the unique wallet which you can custom with his initials.
It is handcrafted in Italy by professional artisans using full-grain, vegetable-tanned leather from one of the world's most prestigious tanneries. It's one of the best-personalized gifts for your dad or husband.
Free Engraving 18ct Rose Gold Pocket Watch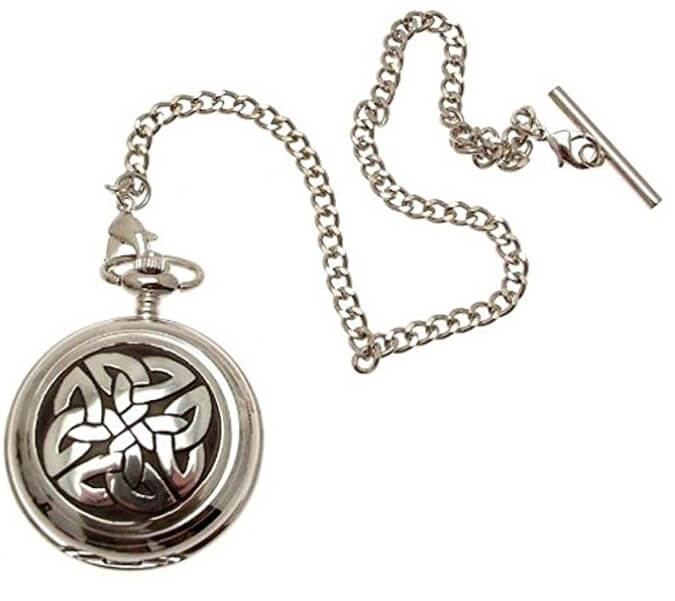 Let your 60-year-old man knows that you always have time for him by getting him this beautifully engraved pocket watch. This personalized pocket watch carries your choice of engraving custom. It is absolutely stunning.
Personalized Ash Plank Serving Board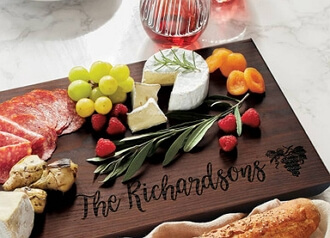 This personalized serving board is made from the highest quality beautiful Ashwood. The plank can be laser engraved with his family name, making it a wonderful gift for the 60th birthday man you know who enjoys cooking and entertaining guests. What a great way to serve his delicious food on something with his own name on it?
Tech Gifts For 60-Year-Old Men
These days, anything gadgety is the go-go. That's why we've handpicked some of the best tech gadgets for men in their 60s. If your husband, dad, or brother is a techie, then you can check out these awesome tech gifts for his 60th birthday.
Smart Digital Picture Frame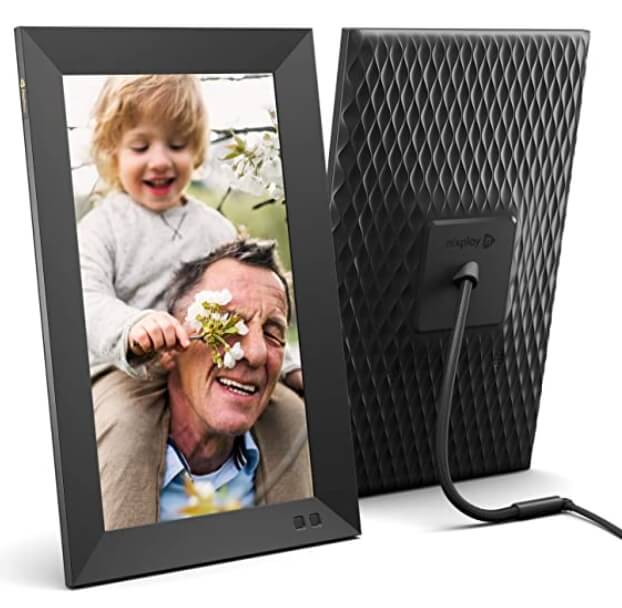 Celebrate his 60th birthday with a photo frame loaded with all the memorable photos and videos from his lovely family and friends. This Smart Digital Picture Frame from Nixplay offers a 1920×1080 FHD IPS display to let you create a high-quality and beautiful mixed media memory gift for your loved ones.
Smart Watch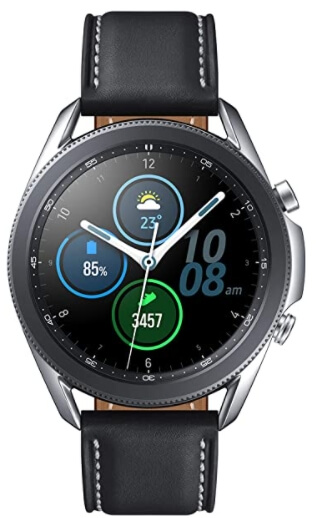 Why not take this Samsung smartwatch so far rather than giving the tech guy an ordinary watch? It could be useful for him to handle his daily work from his wrist.
SmartSleep Sleep & Wake-up Ceramic Self-Heating Mug With Charging Pad
This self-heating mug will keep his coffee or tea hot for hours. Not only that but the charging pad of this revolutionary self-heating mug can charges your smartphone too! It's available in 13 stunning colors and the ceramic quality is excellent. It is definitely a gift that the tech-savvy man in your life who is turning 60 will appreciate.
SmartSleep Sleep & Wake-up Light
With this sleep clock, you can make sure the 60-year-old man on your gift list gets the right time to rest. It not only gradually wakes you up with a brightening natural light lamp, but it also lulls you to sleep at night with dimming sunset and calming sounds.
Unravel AW+ Wireless Charging Pad For Apple Products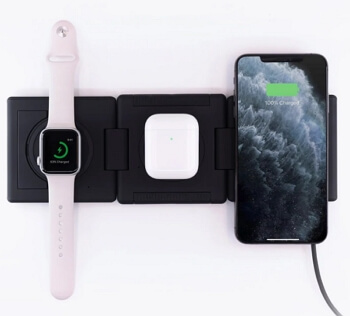 If he is planning to have a lot of travel after the age of 60, he will love this wireless charging pad more than anything else. Not only does it look cool and compact in size, but the convenient design makes him lots of benefits too. He can charge his iPhone, Apple Watch, and AirPods at once by simply placing them on the charging mat. This is one of the best digital gifts for the 60th birthday man.
All-New Fire HD 10 Tablet with Alexa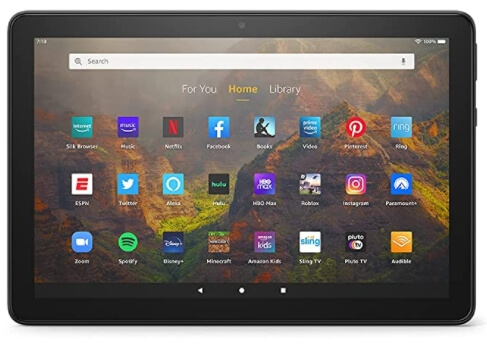 If the birthday man you need a gift for is a tech Savvy Senior or he understands technology, it's time to give him this All-New Fire HD 10 Tablet with Alexa from Amazon. With the vibrant display and the Alexa, he can quickly access the entertainment he wants keep updated and stay informative in Today's Fast-Changing World.
60th Birthday Gifts For Men Who Has Everything
Well, this is a tricky one. If you are looking for some great gift ideas for men who have everything and want nothing, then you are on the right page. Here we have some awesome gift ideas that are sure to leave an impression on his 60th birthday!
Funny Shirt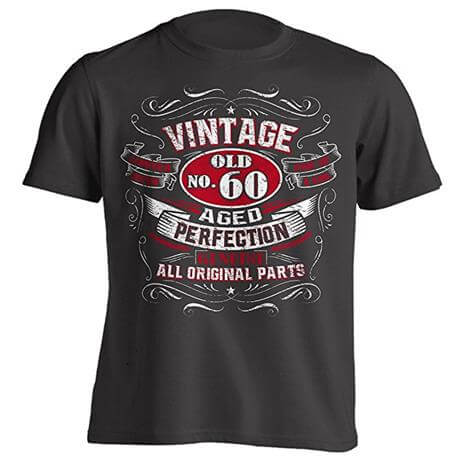 This unique birthday shirt makes a perfectly funny, and personal gift that lets him look so good on his big 6-0!! This vintage T-shirt is designed and printed in the USA with eco-friendly ink to ensure it is of top quality. He will love to wear it at his birthday party and take photos with his family and friends!
Personalized Framed Name Sign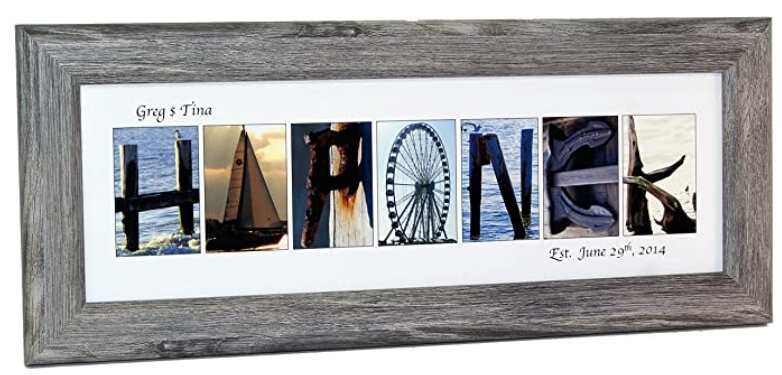 Another unique birthday gift for the 60 Year Old Man Who Has Everything.
Your loved one's name is spelled out using images of architectural elements in this fun art print. It has a black wooden frame with an acrylic front to keep the pictures looking newer for longer.
Funny Coffee Mug
Looking for some fun yet useful gift ideas to celebrate his special milestone? This awesome ceramic coffee mug is a perfect gift to let any man who at age 60 knows that he is against the Law to Look This Good at his Sixty!
david's top 12 tea sampler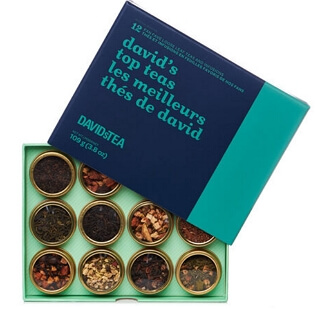 Eight of these wonderful tea samplers come with the David's Tea gift set, which will make a perfect gift for a man who is turning 60 to get relax and enjoy a cup of tea. These 12 different teas in this collection will surely please the taste buds of any tea lover. He'll definitely want to try all of these teas.
Calm Mindful Puzzle Collection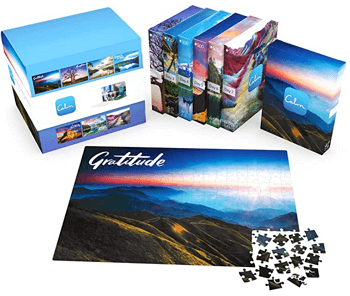 A fascinating puzzle would be a wonderful gift for a 60-year-old man! This is a gift that will challenge and entertain him at the same time, and a fantastic way to unwind.
The Story of a Lifetime Book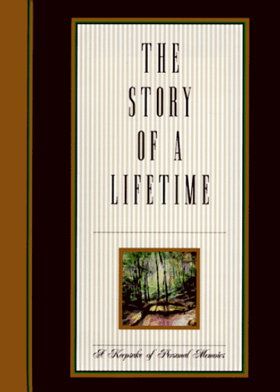 In fact, a self-written book is one of the most valuable 60th birthday gift ideas for an old man who has everything. It includes a number of thought-provoking questions to which he can pen down with his most personal memories. It is a cherished item that her future generations will learn to treasure. It is also a great 60th birthday gift idea for women.
Gift Basket Delight
Need a tasteful gift basket to pamper his stomach? This awesome celebration Basket Delight By Wine Country Gift Baskets contains many hearty assortments that will celebrate that special year! Including freshly roasted cheese, salami, honey, this gift arrives with a bamboo cutting board!
Mens Jewelry Box Organizer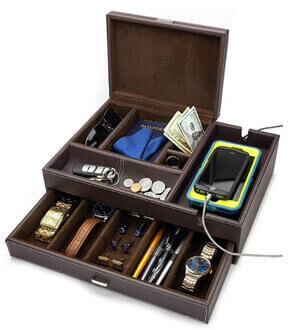 This Men's Jewelry Box Organizer is a great gift for a man turning 60! Many older men frequently forget items such as phones, watches, reading glasses, vehicle keys, pencils, and other such items. This large and elegant organizer ensures that they have access to their belongings at all times.
Vintage Dude Beer Mug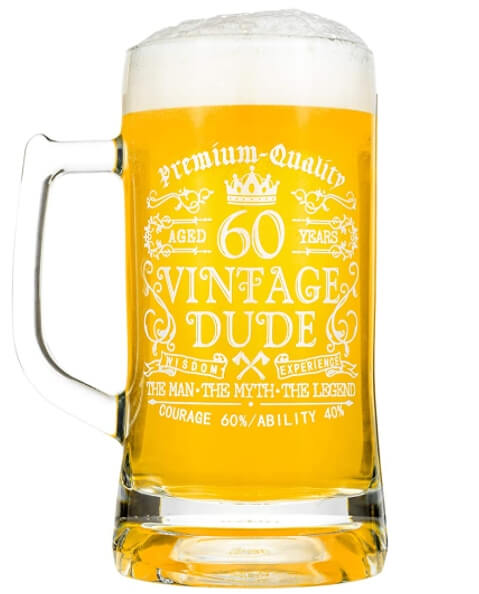 Please just celebrate your Husband or Best Friend / Uncle / Dad / Brother, etc. with this classy beer mug for his 60th milestone birthday. Cheers!
Related post: Best Gifts For Beer Lovers (Time-Saving List For You)
Scented Candle
Give him this one-of-a-kind gift: a luxury candle that features the dynamic natures to produce a modern mix of dark woody and sophisticated sweet notes. One of the best gifts for a 60-year-old man who has everything.
60th Birthday Retro Candy Gift Box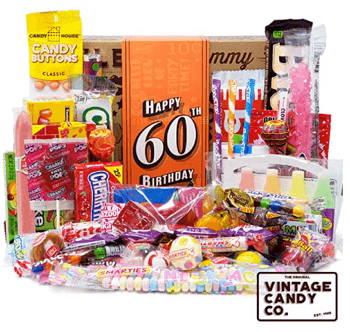 This candy gift basket will provide a sweet blast of birthday delight to the receiver! He'll be taken back to wonderful childhood memories with so many iconic candy pieces. This gift will come as a complete surprise to any 60-year-old man, and he may decide to share the candy with everyone! This is a bright and cheerful present that he will adore.
What needs to be considered when looking for a gift for a 60-year-old man?
When choosing a gift for a man who is turning 60, you have to bear in mind some of the key things that he will be thinking about. Focusing on these areas can help with your choice of present.
As you can see, there are lots of things to think about when it comes to choosing the right gift for the 60th. However, you don't have to worry too much because we will give you some great gift ideas!
60th Birthday Gift Ideas For Men – Common Questions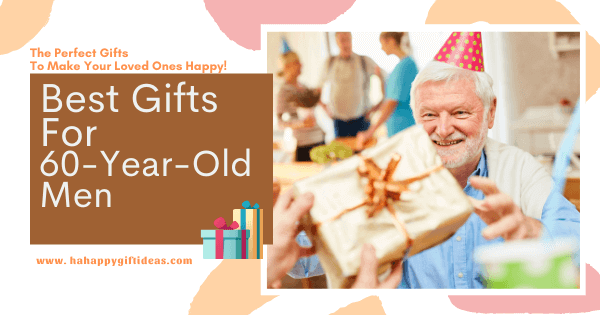 Q: What Is The Traditional Gift For 60th Birthday?
The traditional 60th birthday gift is a diamond, just as the wedding anniversary gift is given after six decades of marriage. However, if the diamond gift has over your budget, it's completely fine to offer your loved one a diamond-inspired gift.
Of course, there's nothing wrong with deviating from the norm, especially if you know your 60-year-old man would like something completely different. Spend the money on a gift he will love if they'd rather have a nice scarf than a diamond.
Q: What Are Some Good "Classic" Gifts For A 60th Birthday?
Q: How To Find The Perfect Gift For Men Turning 60?
It's still the same question no matter how old you are. So, to find the perfect 60th birthday gift for men turning 60 this year, there are a few ways to do it:
-Asking his wife or family for ideas. I know it feels like you are not sure if they actually want to talk about it with you, but trust me, most of them would love to tell you what they really want.
-Browse the internet for gift ideas that can be pratical, funny, or personalized gifts for him. You will find lots of great options with great price tags.
-Keep an eye out for what you think he would like.
-Finding something that complements him or his lifestyle ( like new nice pair of sunglasses while golfing, etc)
-Get a gift that will build his life or at least make it more interesting (like a hardcover book about something he would like to know more about)
Q: How Much I Should Spend On The 60th Birthday Gift For Men?
Again, it's the same question no matter how old you are. I don't think there is a perfect answer for this, and it's really up to your budget and how much you can afford. Don't stress yourselves, it's still a gift after all!
-If you can afford it, make it something really special and think about the things he needs and buy those. It does not have to be a big purchase as long as it can take care of his daily needs (like a nice new watch, or getting him a good pair of shoes that he loves)
-If your budget is really limited, go for something that is pretty simple but has sentimental value (like photo albums or framed family photos, or hand-written notes with lovely words).
Q: What Should I Get My Dad For His 60th Birthday Gift?
That's a tough one, as you can never know what your dad really wants. But to make things easier, pick something that is more about his personality and not about how old he is turning.
If he loves fishing, get him a new fishing rod. If he is into sports, odds are that he would love it if you pick him a season ticket for his favorite team. If he loves cooking, get him kitchen gifts that he would use.
If you are not sure where to start, go with something personalized like a photo book of your family trips over the years or some nice pair of sunglasses (which is more like an everyday gift). Just make sure that it is something he will actually use later on.
Q: What Should I Buy My 60-Year-Old Husband That He Will Actually Love?
Treat him however you want. (lol) Your spouse would be delighted to know that you purchased his birthday present with him in mind. For a man who likes a drink, a whiskey decanter is a winner, and he can even proudly display it someplace at home, so look for one with a unique design. He could also appreciate a new sweater or jacket (a wonderful opportunity to choose something you want to see him in!).
Furthermore, perhaps you'd want to gift him something special to commemorate his 60th birthday, buy a neck massager or foot massage slippers will be much appreciated if he is looking for something to help with his everyday aches and pains.
Q: Are There Any Good Gifts To Give My Uncle For His 60th Birthday?
Of course, it really depends on the type of person he is. If he's more of a lifestyle kind of guy, some cool but practical things may be to get him tickets to see his favorite show or take his family out for dinner on him.
Alternatively, if he likes silly gifts or gag gifts you could give them some funny birthday cards or novelty items like T-shirts with wacky sayings about getting old on the back. It's difficult since people are different and there isn't really a generic answer to this question.
Q: Is There A Good Gift Idea That Is Inexpensive And Not Too "Cheap"?
Of course, there is. But it's not about looking for some expensive 60th birthday gift, but rather something that he would actually want to use. For example, if you are on a budget and can't afford to buy him an expensive watch or nice sunglasses, get him something sentimental.
For example, you can pick some great photos from his family's past and present and put them in an album or an online photo book. You can also give him a handwritten letter from you saying what he has done for your family over the years.
Q: What Is The Colour For 60th Birthday?
The 60th birthday is seen as an important or milestone birthday in a person's life. Although there is no fixed color scheme, classic hues are recommended as a good choice. Black, white, gold, and silver are recommended colors.
Q: What To Gift A 60-Year-Old Man If He Doesn't Like Material Things?
A: If the 60-year-old man you're shopping for doesn't like receiving gifts that are physical in nature, consider getting him an experience gift instead.
Some great ideas include a day of fishing, golfing, or hiking; tickets to a concert, play, or sporting event; or a voucher for a meal at his favorite restaurant. Check here for more creative ideas.
As a milestone birthday, 60 is undoubtedly the most memorable; at that age, your dad has a lifetime of accomplishments to be proud of, as well as the possibility of a comfortable retirement only a few years away.
Because the person's your dad's 60th year is followed by a year of celebration, the 60th birthday is celebrated with such opulence. Here are some of the great 60th birthday wishes For your dad:
"Dad, I wish you a happy 60th birthday. My heart will undoubtedly adore you for as long as I have lived in my body."
"Wishing the world's most loving father a wonderful 60th birthday. Dad, may your special day shine as brightly as your extraordinary life."
"My dear father, I wish you a happy 60th birthday."
60th Birthday Gift Ideas For Men – Conclusion
When it comes to giving him a present, a 60-year-old guy wants to know that you have thought about him personally! Consider what he would purchase if you offered him a specific amount of money. Would he buy something useful or something enjoyable? Something useful adds durability to the present because it will serve a certain role in his life.
As a result, he'll get a lot of usage out of the gift! So, let's buy a great gift to celebrate his special day and make him feel extremely special.
60th Birthday Gift Ideas For Men –If you loved it, Pin It!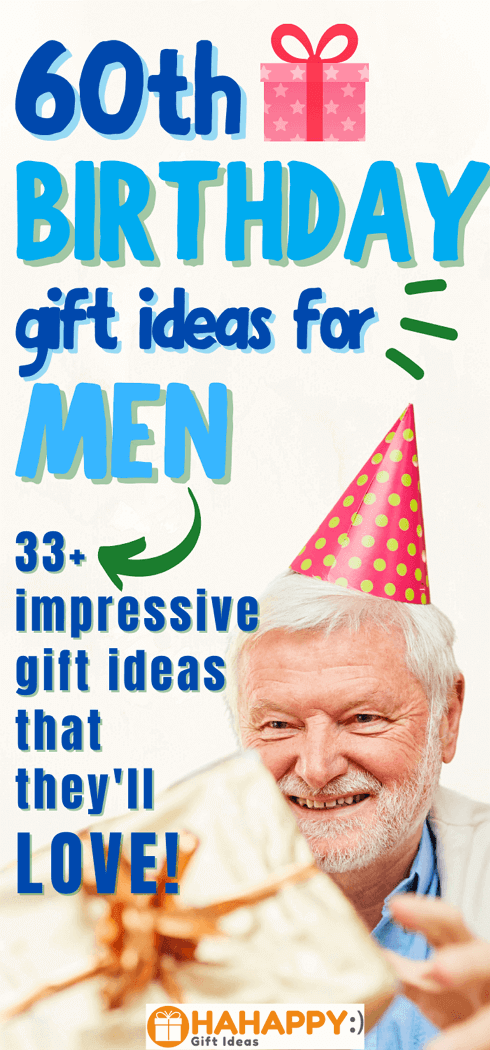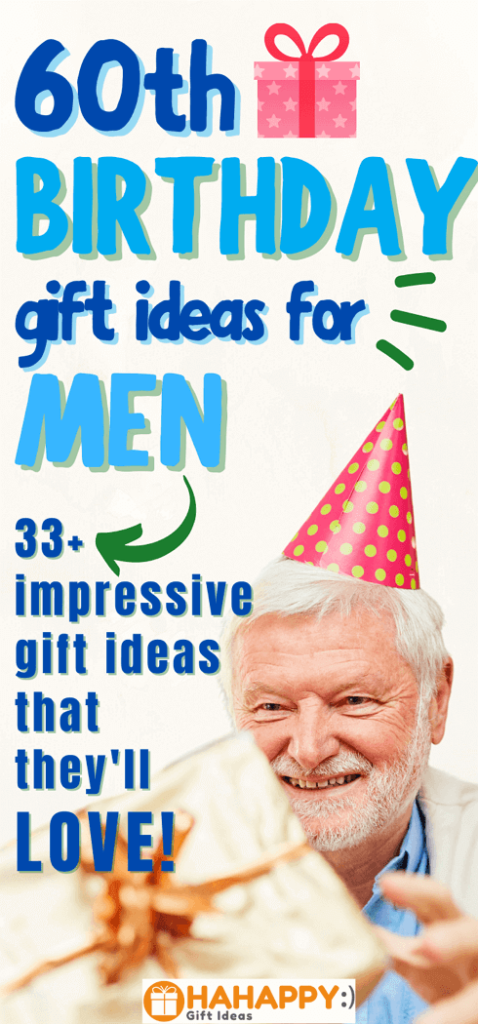 ---