Best Gifts For 17-Year-Old Girls (Awesome, Fun, Unique Gifts She'll Adore)
It's always so much fun to find gifts for 17-year-old girls. As they are on the brink of adulthood, it's time to celebrate the transition with a few presents that will make their life easier.
You want to find the perfect gift that will make them happy but also show her you care. There are so many great gifts out there, and it can be hard to pick just one. But if you want the best of the best Gifts For 17-Year-Old Girls, here are some ideas for presents that any 17-year-old girl will love- from beauty products to gadgets and accessories, we've got something for everyone!
Whether it is your daughter, niece, sister, or girlfriend you're looking to buy a gift for, these are the best gifts for 17-year-old girls. And we've also got an extra section of gifts for 17-year-old boys if that's what you're looking for.
Best Gifts For 17-Year-Old Girls – What You Need To Know?
Before we get to the list of best gifts for 17-year-old girls, there are some things you need to know. I've put together a few key points that will help you pick the perfect gift for 17-year-old girls.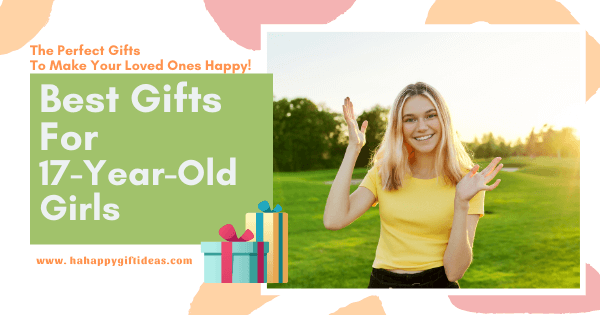 What are the development milestones for 17-year-old girls?
She is still a child but on the brink of adulthood. 17-year-old girls are growing up and becoming more independent, so before choosing the gift for her, let's look into 17-year-old girl's development and milestones:
In terms of her mindset, your teenager is starting to develop her own values and opinions.
She has a limited circle of friends that she spends most of her time with, so the vibe will be different from one friend to another.
She's exploring new experiences but still needs your support and encouragement to keep going.
At 17 years old, teenage girls tend to take more risks than they did at 16.
They will still need guidance from you, but don't be afraid to let her try her wings and fly a little bit on her own.
This is the time when 17-year-old girls start to become more interested in boys and romance.
She sees herself as a grown-up woman with all the features of a charming lady.
What need to consider when choosing the best gifts for 17-year-old girls:
Here are some things you may want to consider when choosing the best gifts for your teenage child:
What are her interests?
What are her hobbies?
Is she creative or hands-on?
Does she love music, movies, or reading?
Who is her role model?
What is her favorite color/theme/style of clothing and accessories?
What kind of style does she have- is it classic, modern, or quirky?
Does she want to be more independent this year?
Does she have a wish list for her birthday or Christmas?
What are your budget and the price range of the preferred gift?
If you are her parents, make sure she has everything she needs: This is probably the most important thing to do before buying her anything! Check if your daughter needs any new clothes, shoes, and accessories (purses, hats, etc.)- you don't want to get her something she already has.
In addition, make sure you don't go overboard: Getting a 17-year-old girl a gift is nice, but you don't have to break the bank. In fact, it can be better if you find something practical and useful that she will enjoy every day.
Our Favorite Gifts For 17-Year-Old Girls
Here are our top picks for the greatest gifts that will help you choose what to get a 17-year old girl. Whether it's her birthday, Christmas present, or any other occasion we have narrowed down all of those possibilities into this comprehensive list so there is no guesswork involved when buying that special someone something!
And just in case picking out an awesome gift isn't enough work already on your plate check these categories:

Best Gifts For 17-Year-Old Girls – FAQs
Best Gifts For 17-Year-Old Girls – Conculsion
We've rounded up some of the best gifts for 17-year-old girls that are sure to please any recipient whether she loves beauty, fashion, or tech! So get shopping now; we guarantee there is something in this post for the teenage girls you love! And if you need help narrowing down your selection, don't hesitate to leave your comment below. Our team of specialists would love to help you on creating a memorable gift-giving experience this holiday season by selecting a one-of-a-kind present just for her. What's been your favorite item from our list?
Best Gifts For 17-Year-Old Girls – Related Posts