Gifts For 14-Year-Old Girls (Time-Saving List For You!)
You've come to the right site if you're seeking the best gifts for 14-year-old girls (daughter, granddaughter friend, sister…)
We looked into the top 14-year-old girl gifts and what we think they'll make her smile for any occasion. These are all gifts that she will like, whether it is for her birthday, Christmas, an achievement, or any other occasion. Our selection helps you choose the greatest gifts for any 14-year-old girl, from trendy backpacks to entertaining gadgets and everything in between.
If you are searching for something for similar age also check this list of Gifts For 13-Year-Old Girls, The Best Gifts For 13-Year-Old Boys, Gifts For 14-Year-Old Boys. Gifts For 15-Year-Old Boys, Best Gifts For 15-Year-Old Girls, Gifts for 16-Year-Old Girls, The Best Gifts for 16-Year-Old Boys 
Best Gifts for 14-Year-Old Girls – FAQ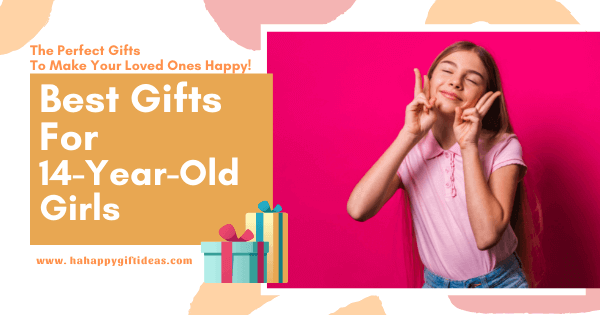 Q: What should a 14-year-old get for her birthday?
If you're looking for gifts for 14-year-old girls you care about, whether she is your daughter, little sister, granddaughter, or close friend, the easiest way to go about it is to simply ask her what she wants to get for her birthday, and everyone will be delighted.
However, you may get an answer like "I don't know" or "I don't want anything". If it's the case and you are unable to ask or receive a clear answer, below are some good gift ideas of birthday gifts for 14-year-old girls to help you get started
Accessories, Gadgets, and Electronics
Clothing and footwear, jewelry, hair accessories
Body care products, perfume, and make-up
Books and fun games
Something for her room
Arts, music, sporty gift
Chocolate and candies

Q: What is the best gift for a 14-year-old girl?
Beauty Gifts
Because good skincare is particularly important to young females, beauty presents make for a unique gift for teenage girls. Giving her a stylish make-up present will also make her happy, and she'll remember you every time she uses lip balms. So, let's start stocking up on crowd-pleasing beauty gifts, from a facial cleansing system to a trendy bath bomb, sweet fragrance, seasonal cosmetics package, and much more.
Fashion and Jewelry Gifts
Fashion and jewelry gifts are on practically every teenage girl's wish list. Denim jackets, cozy boots, colorful socks, and a piece of personalized jewelry are all excellent present options. Every teen girl would appreciate a fashionable accessory that will enhance her appearance.
Cool Tech Gifts
Teens love technology, so sending a teen girl some nice electronic gadgets as a gift is something that can make her smile. Electronics that are trendy and have a cool design are definitely on her wish list. Trying to come up with a cool tech present, such as wireless earbuds, a portable charger, or a Bluetooth speaker, would undoubtedly attract her attention and heart.
Fun and Adorable Gifts
If you're still undecided about what to get your teen gifts for Christmas, then just choose a gift that is FUN, ADORABLE, and COLORFUL!
Gift Card
If asking her what she wants isn't an option, or if there isn't anything on her "must-have" list that you can buy, there's always the gift-card alternative. At the very least, she will wind up with something she enjoys.
Gifts for 14-Year-Old Girls – Conclusion
I'm sure most 14-year-old girls will confess that they are difficult to purchase. We all know they'd love a Macbook Air or an iPhone; who wouldn't? However, for the vast majority of us, this is not in the budget. We do hope that you have found this list helping you find several gift ideas that will suit your budget and her personality.