Gifts For 14-Year-Old Boys (Time Saving List For You)
Teenage boys are difficult to shop for, and selecting gifts for 14-year-old boys is especially difficult. There is no "right gift for all" because boys at age 14 have such a diverse range of interests.
Don't panic. we contacted a wide range of adolescent guys, and a list of the gifts for 14-year-old boys has been created here. We've asked them what they'd want to receive, collated the data, and narrowed it down to 29 options to get you started. Whether he likes sport, fun gadgets, video games, music, or science, you will find interesting gift ideas for a 14-year-old boy from the list below.
(Here is the list of Gifts For 14-Year-Old Girls if you are also buying a gift for a girl age 14)
Gifts For 14-Year-Old Boys: FAQ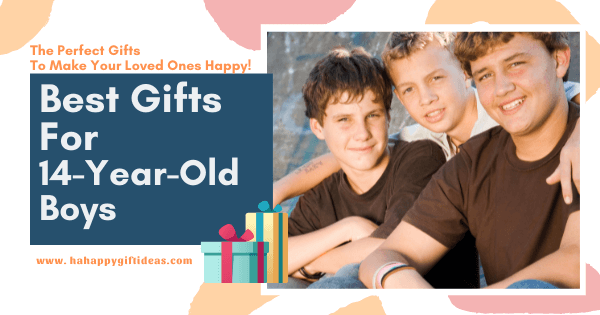 Q: What do you buy a 14-year-old boy?
A: Boys at age 14 is a critical stage that brings plenty of changes. They are going to leave Junior high, and high school is approaching. Adolescent changes are happening all the time, from major growth spurts to changes in their voice, and there is no way to stop it!
So, you may feel puzzled when it comes to buying a gift for a 14-year-old boy, the wide range of interests they may have can make it seem impossible to discover anything they enjoy. To narrow down your choice, here are some gift ideas to inspire you:
Outdoorsy and sports gifts that help them to sweat and spend their energy
Gaming Gifts that help them to spend an hour of fun and hit the highest score
Toys & Games Gifts that allow them to play with friends
Educational Gifts that help them to learn STEM in a fun way
Gadget Gifts that are super cool and fun
Stylish Gifts that help them feel a little more grown-up
Music & Art Gifts that help to grow their inner musician and artist
Q: What is the best non-video game gift ideas for a 14-year-old boy?
A: As you may agree, with so many technological breakthroughs and video games in the market today, it can be difficult to let the 14-year-old put down their mobile device. So, in order to help them step out from their gaming world, our list above has included hand-picked gift ideas that help your 14-year-old son to enjoy some healthy hobbies besides computer games!
Gift ideas like the Telescope, Magic Kit, and Punching bag are all excellent choices. They're gifts that will encourage him to get out and keep his adrenaline pumping in the real world, rather than just on his video game system.

Q: What is the best gift for teenage boys?
A: Buying unique gifts for teenage boys sounds difficult, they are in between child and adult, and start to have their own way of thinking and love to trying new things. In general, techie gifts and gaming gifts are popular among teenage boys.
However, to surprise your teen boys, you can try to talk with them and ask what they are interested in and enjoy. Whether their hobbies and interests are TV games, basketballs, swimming, music, techie, skateboarding, or any fun activities, then you'll have better ideas and direction of picking the perfect gift that they'll like.
If he is a TV gamer, consider surprising him with the Nintendo Switch or the latest Playstation games. If he is into basketball, a new set of basketball shoes or jerseys will be a great gift to him. If she loves playing guitar, then buy him a new one to practice his skills instead of using dad's old guitar. If he is a boy who loves reading, books or even the Amazon Kindle will be the best gift to please him.
Click here if you are looking for more gift ideas for the teenage boys

Q: What to buy a teenager who has everything?
A: If the teenager on your gift list already has everything, you may consider gifting them "gifts of experience", and hang out with them doing something different that they'll never forget. Below are some great ideas for you to get started:
A trip to a major city
Theme park admission tickets
Attend a television show recording
A ride in a hot air balloon
Aerial tour of your town by helicopter
Driving a Go-Kart
Tickets for a Broadway show
Tickets of the concert of their favorite singer
Tickets to a sporting event
Gifts For 14-Year-Old Boys: Conclusion
We hope that this list has taken some of the worries off of finding the ideal gifts for 14-year-old boys. Remember that every 14-year-old boy is unique. If you are parents, the best way to choose the right gift for him is simply to ask him to help you choose the right one he will enjoy! If you are close relatives and feel it's embarrassing to ask him directly, then ask a close family member or one of his friends, they'll make sure to help you in the right direction. Just make sure you're giving him something he'll enjoy and that he doesn't already have!
Gift Ideas For A 14-Year-Old Boy – Pin it If You Like Our Picks