Shopping for the very Best Gifts For A 2-Year-Old Girl?
Then our excellent selection below is sure a right way to get you started! Ideal for Birthday, Christmas, or just gifts for your little princess!
By age 2, girls are moving from one milestone to the next. She is becoming a little explorer and full of energy. Also, she likes running, jumping, and playing. Like any young kids, she also requires toys and plays activities to help her get through the next stage of developmental needs. So, our gift list of 2-year-old birthday gifts included gift ideas from educational toys to activity learning tables, personalized doll, musical toys, building blocks, playhouse, play kitchen, and pretend toys. Check out the best gifts for a 2-year-old girl that both the little girls and parents will put a smile on their face.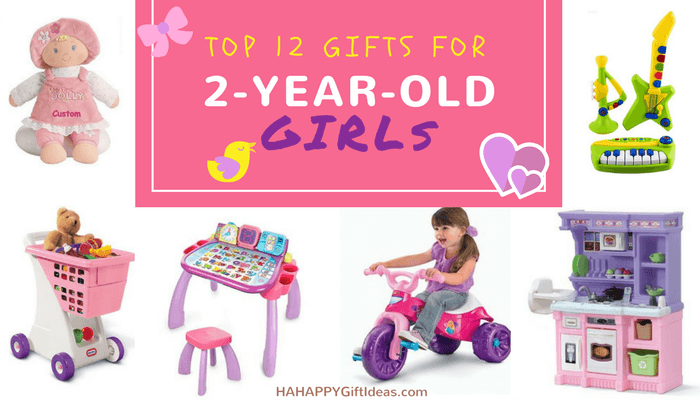 12 Best Gifts & Toys For Girls Age 2:
---
1.
Personalized My First Purse 8″ Playset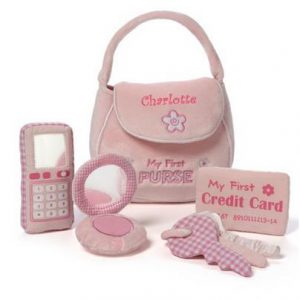 Get your little lady ready for a night on the town with this Personalized My First Purse Playset. Pretend play will never be so fun and pleasure for her! Personalized the name of your little lady to the top of the purse for a notable touch! All items in this playset are surface washable and perfect for her little hands. 
---
2.
Personalized My First Dolly
Make sure your precious little girl's baby doll is as special as her. This Personalized My First Dolly is sure to delight your little girl on her 2nd birthday. Dolls encourage little girls to learn and think abstractly through pretend play, and it is perfect for your 2-year-old girl to learn the meaning of friendship.
---
3.
Mega Bloks Lil' Princess Play N Go Fairy Table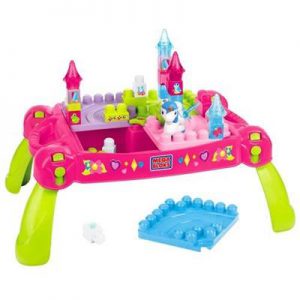 Every little fairy tale fan needs a "starter castle." Mega Bloks Lil' Princess Play N Go Fairytale Table could be just the right gift for her own mystical ticket to the Lil' Princess world. This is a cute buildable palace that encourages a lot of open-ended imaginative and creative building play.
---
4.
Fisher-Price Magical Tea for Two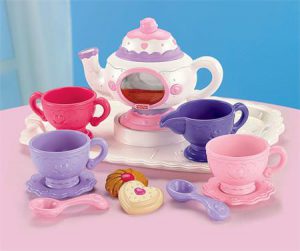 Teatime becomes much more huggable and magical experience – the Fisher-Price Magical Tea for Two provide your little girl with plenty of fun! This lovely tea set features pink, purple and white colors, with fascinating details like polka dots and scalloped edges for added visual appeal. Now…who wants to have a magical tea party?
---
5.
Best Choice Products Kids Ride On Car with MP3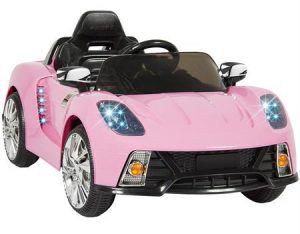 This uniquely designed pink R/C car is ready to go for little girls to enjoy. It includes all functionalities your little driver can dream of! This absolutely stunning sports car has fun, and attractive design features functioning fun engine sounds, LED lights, and built-in speakers. A great gift for any little girl.
---
6.
VTech Touch and Learn Activity Desk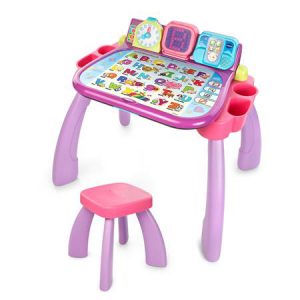 It's time to place the "fun" in fundamentals! Your 2-year-old girl is bound to have a dynamic and interactive learning experience with the Vtech Touch & Learn Activity Desk™ Deluxe. One of the best educational toys for 2-year-olds. It is an interactive, fun learning desk, chalkboard, and easel all in one! Get ready to learn and have fun with this excellent 3-in-1 activity desk!
---
7.
Step2 Little Bakers Kitchen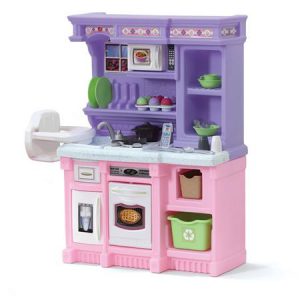 Looking for age appropriate toys for 2-year-olds? Most of the 2-year-old girls will love cooking up meals just like their parents with this compact and colorful Little Bakers Kitchen. It is the perfect gift for your little chef! Step2 Little Bakers Kitchen is made to give the feel and look of a real kitchen for more authentic play, and it is one of the best gifts for a 2-year-old girl. Let's Cook!
---
8.
Fisher-Price Barbie Tough Trike
Little pretty 'bikers' will love cruising along on this Fisher-Price Barbie Tough Trike with durable and rugged tires that tough enough for years of outdoor fun and adventure! It is tricked out with adorable princes's styling and graphics which little girls will love. 
---
9.
Little Tikes Shopping Cart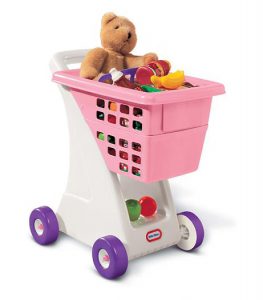 The Little Tikes Shopping Cart is an ideal toy gift for imaginative play. Your little girl can take her favorite toy for a ride while gathering her play food or imagine a trip to the grocery store. This adorable little shopping cart is a great gift to help your girl mimics trips to the grocery store or comes in handy in her pretend kitchens!
---
10.
VTech Touch and Teach Word Book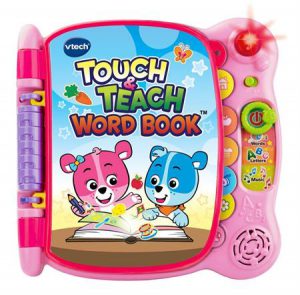 Make reading and learning an even more interactive experience with the VTech Touch & Teach Word Book. Your little girl will have endless fun on learning adventures that range from letters and vocabulary to music. It is an excellent way to teach your 2-year-old girl letters, and it comes with more than 100 words in four different activities. 
---
11.
WolVol 3 Piece Band Musical Toy Instruments
Little musicians can learn and have fun creating music with the WolVol 3 Piece Band Toy Set. It is the perfect gift for your little girl who loves instruments and musical toys. This set of musical toys is very helpful for your little girl's limb movement, meanwhile, improves her hand-eye coordination and teaches her patience and sharing. 
---
12.
EocuSun Polka Dot Folding Kids Play Tent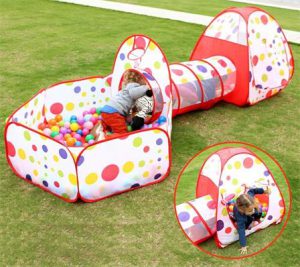 Give your little active girl hours of fun with this cheerful and jolly Playhouse Tent Tunnel! She will love to make delighted memories with this ball pit by jumping, crawling, or lying down inside it.This awesome play tent is best for birthday parties, picnics, parks, backyard BBQs, playgrounds, sleepovers, indoor or outdoor play! BALLS NOT INCLUDED.
---
Related Posts:
Best Gifts For A 1-Year-Old Girl
Best Gifts For A 3-Year-Old Girl
Best Gifts For A 4-Year-Old Girl
Best Gifts For A 5-Year-Old Girl
Best Gifts For A 6-Year-Old Girl
Best Gifts For A 7-Year-Old Girl
Best Gifts For An 8-Year-Old Girl
Best Gifts For A 9-Year-Old Girl
Best Gifts For A 10-Year-Old Girl
Best Gifts For An 11-Year-Old Girl
Best Gifts For A 12-Year-Old Girl

---
Photo credit: donnierayjones via Visual Hunt / CC BY