Unique Birthday Gifts For 1-Year-Old Boys (Time-Saving List For You)
Your baby boy's 1st birthday is coming soon. Just like most of the parents, you might want to spoil him like a little prince by the Best Gifts For 1-Year-Old Boys on this special day. Indeed your baby boy is an active little person now, and he has started the amazing journey to explore the world. To get you covered, we have found the unique gifts for one-year-old boys that both the little gentlemen and parents will LOVE –  from educational toys to clothes and mealtime sets.
If you are looking the gifts for 1-year-old girls, click here.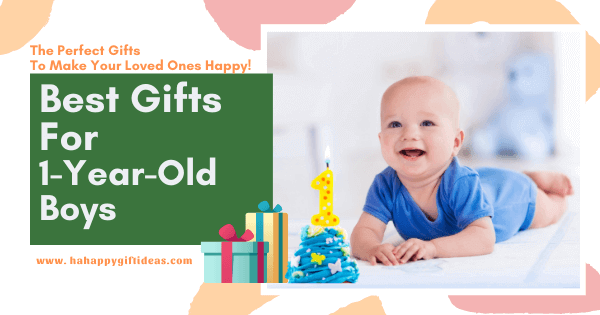 Best Gift For 1-Year-Old Boys – FAQs
Q: What Is A Great Gift For A 1-Year-Old Boy?
A one-year-old boy is no longer a baby; he is already on the move, walking and maybe even running on his own. He now needs some big boy toy gifts that allow him to explore his surroundings while having fun. Below are some great gift ideas for 1-year-old boys:
Educational Gifts
As they explore their surroundings, one-year-olds are continuously learning and absorbing up information. Education toys that teach fundamental abilities like numbers, letters, colors, and shapes are considered great gifts for 1-year-old boys. You may also pick a gift that encourages the development of abilities like balance, hand-eye coordination, and motor skills.
Push and Pull Toys Gifts
Push and pull toys are excellent gifts for one-year-old infant boys. Toddlers like pushing and pulling items after they can take their first steps. These kinds of gifts are not only entertaining, but they also help children develop their balance and gross motor abilities.
Blocks
Blocks are one of the most adaptable toys throughout childhood. According to research, blocks not only assist toddlers to develop their imaginations but also help them develop their spatial abilities.
Outdoor and activities Toys
Even little children enjoy toys that they can roll, bounce, throw and catch both indoors and outside. Thus, kiddie swing and playful pool are good gift ideas for 1-year-old boys.
Baby Gears
The proper equipment may make both the lift of the parent and baby so much simpler. Video monitor, gear for mealtime, portable changing station are some of our favorite baby gifts.
Q: What Is The Best Gifts for 1-Year-Old Boy Who Has Everything?
If the lovely little boy on your gift list is not the first-born baby in his family, that means he may be already has EVERYTHING from his bigger brother!  He may have enough clothes that are in great condition. He does not need toys as he has that many second-hand toys that are enough to sink a battleship. He may also have enough books to fill a library. Don't worry and we are here to help you to brainstorm about the perfect gift ideas for the boy who has everything. Here are some suggestions:
Donation to a charity on his behalf

Passes to a nearby play center

Sponsor a term at swimming lessons

Sponsor a term of baby gym classes

Family Zoo/Aquarium passes

Tickets to a fun kids museum

Subscription to Baby magazine

Coins collection from the year he was born
Q: What Is The Best Birthday Gift For 1-Year-Old Boy?
What do you give a boy for his first birthday? It mostly relies on the child's current toy collection. Push toys (for example, Fisher-Price poppers, toy lawnmowers, or shopping carts), pull toys, balls (of various types, including sensory balls), board books (or regular books with limited words per page, repetitive language, and bright, vivid illustrations for reading with an adult), cardboard blocks, dolls (they're good for boys, too! ), and age-appropriate cars and trucks are all good gifts.
We won't suggest giving very young children too many electronic toys, while battery-powered toys are OK in moderation. You'll probably be OK as long as the toy isn't hazardous due to little pieces that might cause choking.
Sure is Pinteresting!
Best Gifts For 1-Year-Old Boys – Our Final Words
Choosing the greatest gifts for 1-year-old boys may be difficult. But with our gift list above, finding the ideal gift for a 1-year-old may be easier than you think: this is the age when the box is more fascinating than the gift inside.
Remember that one-year-old kid is no longer a baby; he can now walk and maybe run independently. He now requires big boy toys that will allow him to enjoy himself while exploring his environment. No matter what sort of toys he likes, we're certain you'll discover the ideal gift for him in our gift guide!
---
Related Post of Best Gifts For 1-Year-Old Boys:
---