17 Best Gifts For 1-Year-Old Boys
Your baby boy's 1st birthday is coming soon. Just like most of the parents, you might want to spoil him like a little prince by the Best Gifts For 1-Year-Old Boys on this special day. Indeed your baby boy is an active little person now, and he has started the amazing journey to explore the world. To get you covered, we have found out 17 unique gifts for one-year-old boys that both the little gentlemen and parents will LOVE –  from educational toys to clothes and mealtime sets.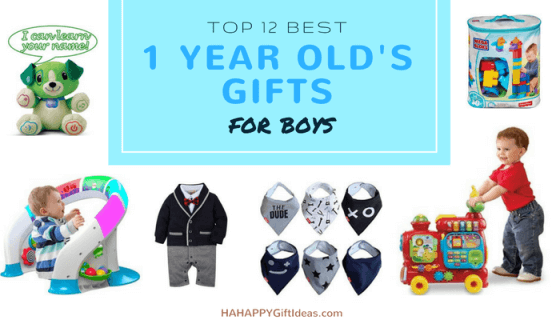 If you are looking the the gifts for 1-year-old girls, click here.
# Smart Touch Play Space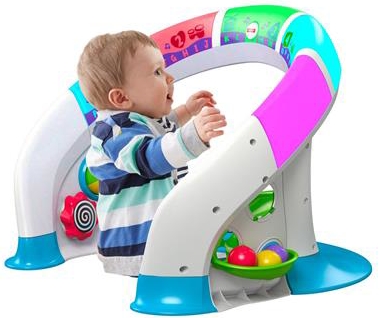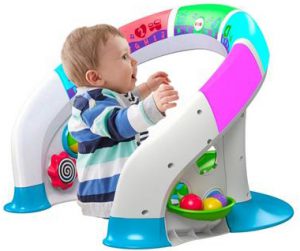 Fisher-Price Bright Beats Smart Touch Play Space is the perfect gift for the 1-year old's active little people! This innovative gift is featuring in its interactive, touch-sensitive light bar with three ways for the baby to play. It encourages the little child to get up and move!  The little boy will get fun in the busy activities, music, lights, colors, and sung songs.  It's the ultimate toy and gift for a baby boy's growth & development!
# Musical Table Activity Center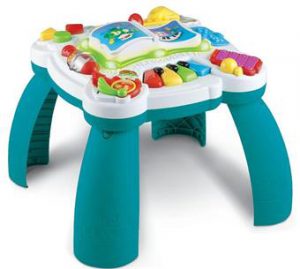 Response to sound by making sound is one of the important developmental milestones of a one-year-old child. This Learn and Groove Musical Table Activity Center from LeapFrog turns up the sounds of learning fun. It provides endless fun to the children through exploring sounds, songs, and instruments such as the piano, drum, xylophone, trombone, and guitar. The little guy will absolutely LOVE this fun and awesome learning table! One of the Best Gifts For 1-Year-Old Boys.
#LeapFrog My Pal Scout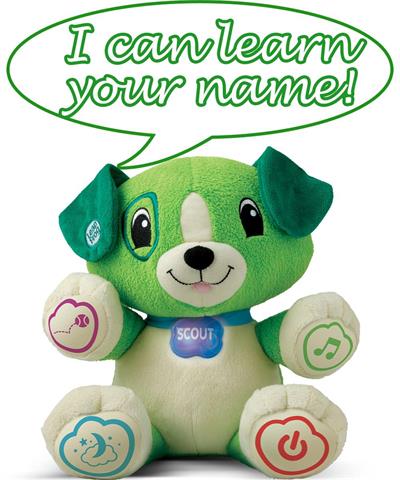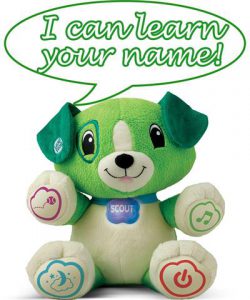 This electronic toy My Pal Scout is the best gift to personalize a 1-year-old boy's learning. Just download the little one's name to this cuddly customizable puppy, and he'll spell it out. In addition, this puppy toy teaches first words, emotions, feelings, and counting. Moreover, it has a lullaby timer of bedtime music, a blinking collar, and volume control to help little boys transition to quiet time. It is not just a gift to the little boys, but this puppy will 1-Year-Old be his best friend as well!
# Wooden Pull Along Toy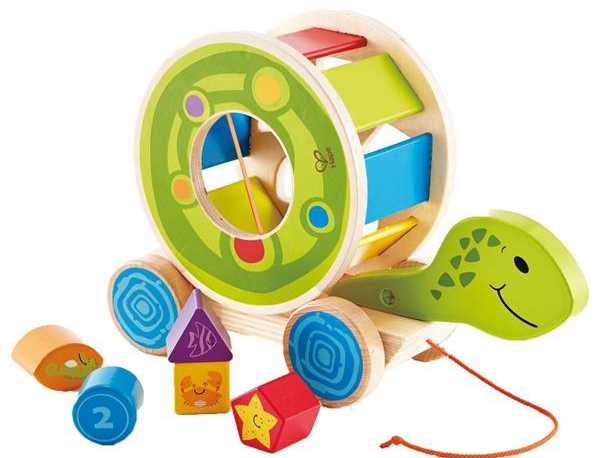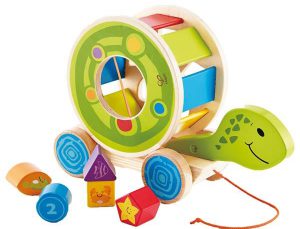 Hape Shape Sorter Turtle is one of the unique birthday gifts for the 1-year-old boy who start developing logical thinking skill and hand-eye coordination. This wooden turtle toy comes with 5 piece wooden shape blocks that help the little kids to learn how to sort shapes and distinguish colors. The pulling feature contributes to building confidence for the early walker by providing a playmate.
This wooden turtle is made from non-toxic materials, child-safe, and of the highest quality. This great little gift can truly stimulate the little guy's mind!
#Mega Bloks 80-Piece Big Building Bag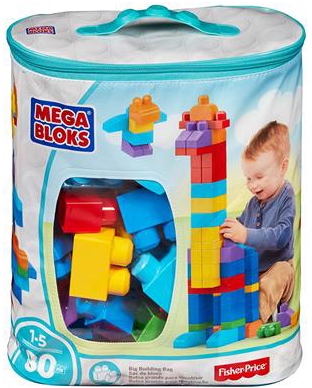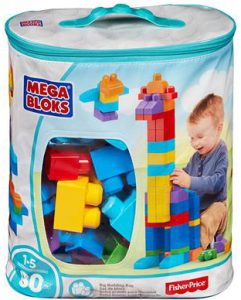 Blocks are essential toys for early childhood development as it helps to develop the kid's motor skills and hand-eye coordination, and also build up the creative mind of the little one. The Mega Bloks Big Building Bag included 80 pieces of First Builders blocks for hours of play. It is designed especially for toddlers as all the blocks are easy to hold, stack, and take apart.
All the blocks come in a variety of color schemes, including classic colors, lighter pastels, and trendy bright colors. The set also includes an attachable wheelbase to build cars and trucks that boys will love it. The entire set is packed with a Portable, PVC-free bag zips to store all blocks. These amazing bags of blocks is a wonderful gift to give endless possibilities and fun to the little guys.
# Sit-to-Stand Ultimate Alphabet Train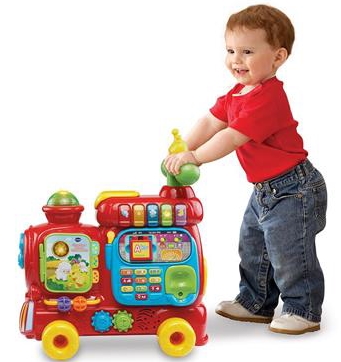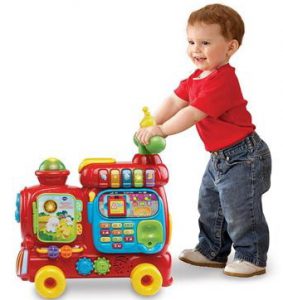 This Vtech Sit-to-Stand Ultimate Alphabet Train is designed to grow with the 1-year-old child. This toy train can be a gift as a toddler floor toy, baby walker, or a pull toy wagon they can fill with toys. The entire toy comes with 10 activities, which including storybook, gears, and clock.
It has 13 double-sided alphabet blocks that can develop fine motor skills and teaches letters, numbers, colors, and more. Also, it features more than 100 songs, melodies, sounds, and phrases that provide endless fun for the little one. This educational toy train is the Best Gifts For 1-Year-Old Boys for the little guys who are starting to learn and walk.
# 2-in-1 Talking Ball Educational Toy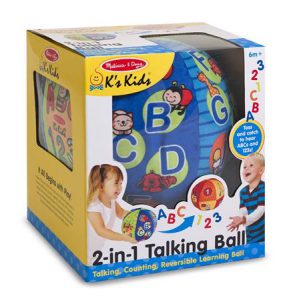 This amazing talking ball from Melissa & Doug is a fabulous best gifts for 1-year-old boys that little guys will LOVE!  The ball is very special with its impressive designs. The fabric is reversible with a design featuring the ABCs to one with numbers. There is a speaker to recite the alphabet and say numbers, and it is motion activated and only generate sounds when it is tapped, bounced, or dropped.
This educational ball can promote learning in the right order and it is an incredibly fun gift for the little boys.
Part Two: Best Gifts For 1-Year-Old Boys – Personalized
#Personalized My First Sports Bag
Looking for the Best Gifts For 1-Year-Old Boys? Your little athlete will surely love his own Sports Bag. This Personalized My First Sports Bag bag makes for a perfect personalized birthday gift for any boy at age 1. The soft plush tote may be customed with any name and is filled with four toy balls. It measures 7″ x 4″ x 3″.
#Things that Go Personalized Growth Chart
Your little one is ready to grow with this adorably personalized growth chart! This funny illustrated growth chart comes personalized with your child's first name and is produced with artist-grade canvas. Best of all, it comes packaged in a pretty gift box makes it perfect for gift giving. Each growth chart measures up to 60″. One of the best gifts For 1-year-old boys that parents will love.
#Who Loves Me? and Personalized Lovie Blanket Set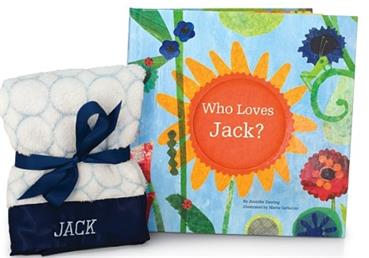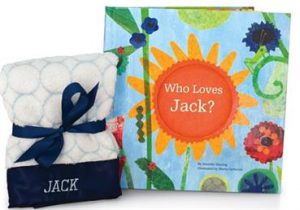 A unique personalized gift always warms the little one's heart while the parents as well. This Who loves Me? books and Lovie blanket set is absolutely one of the surprising gifts for a 1-year-old boy who has everything. The name of the little one will be printed in the book Who Loves Me?. What's more, when ordering, you have the option to upload a photo of the little guy to appear on the dedication page of the book. Kids love seeing their names and photos in print! The blue Lovie blanket comes with the boy's name embroidered on the satin trim.
# "All Aboard Baby Train" Personalized Printed Frame
Searching for the Best Gifts For 1-Year-Old Boys that are memorable? This Baby picture frames make a great keepsake for a 1-year-old boy, especially when it personalized with his name.  His cute photo is going to look fabulous centered inside this adorable, colorful Train Picture Frame Keepsake.
#Mr. Men High Tops
Add the touch of personality to your little prince's cool new trainers, with these Mr. Men high tops. These white high-top baseball pre-walkers are totally unique to your little one, with a choice of Mr. Men's character and name to be printed on the shoes in the iconic Mr. Men Little Miss font.
Part Three: Best Gifts For 1-Year-Old Boys – Fun
# Car Play House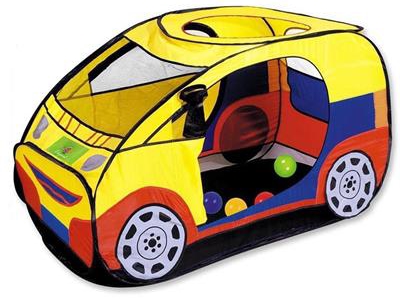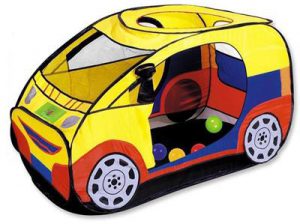 Almost all boys, even the 1-year-old little one, love everything that has to do with cars. The Anystock Car Play House is absolutely a cute and fun gift to provides an exciting and leisure personal space for the little one. This high-quality play car tent is made of polyester nylon fabric with a big size 120x60x65cm. Also, the waterproof feature is very suitable for both indoor and outdoor playtime. Plus, it is easy to set up and takedown also can fold up for easy storage. (The cart tent does not come with any balls as pictured, please do remember to purchase a set of ball-pit balls to make it be the perfect gift)
# Long-Sleeve Top & Pants Set
Not sure what to give for the one-year-old boy on your gift list? Then you can't go wrong with this funny Long-Sleeve Top & Pants Set. This set features monster design and jagged trim, it will definitely add fun to the little one's playtime.
# Baby Boys Romper Suits with Bow Tie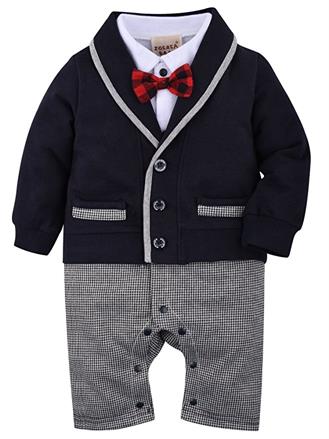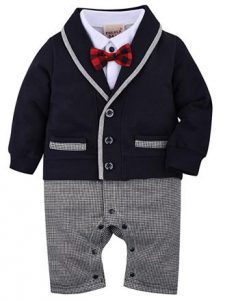 Finding the best gifts for 1-Year-Old Boys and little gentlemen? The cuteness and smart boys deserve the best Tuxedo Jumpsuit gift. With the soft cotton, This ZOEREA Baby Boys Romper Suit will not become a burden for the baby. It also with button closure, and comfortable for wearing and convenient for diaper changing. It is ideal for many special occasions: birthday party, Wedding, family celebrations, Easter, etc. Also appropriate for baptism or christening and daily wear. The attractive bow tie cannot be removed, thus, very safe for the one-year-old boys.
# Bibs 6 Pack "THE DUDE" Gift Set For Boy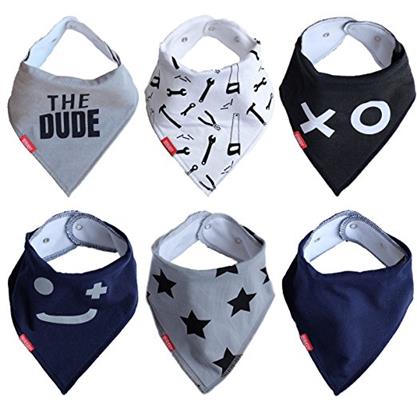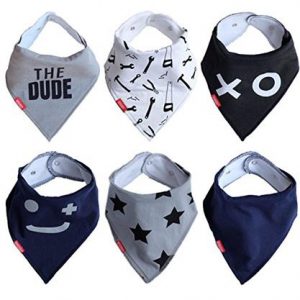 Both the little guys and parents will love this cutest, trendiest drool bibs! This bibs set includes 6 high-quality and stylish bibs in hand-made feel. All bibs feature in cool colors, fun mix designs, and match to complement any little outfit. These are made from 100% high-quality soft cotton with an absorbent fleece backing. They are quick and easy drying, light in weight, machine washable, and comfortable for all-day wear. It has two adjustable metal snaps to keep the baby's bibs hold right on the little guys. These cool bibs set makes a perfect 1-year-old gift …because the active little boys can never have enough bibs!
# Baby Plate Gift Set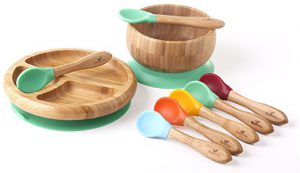 Self-feeding is one of the important things on the to-do list of the one-year-old boys, but it always becomes a messy job in the end. The Avanchy Baby & Toddler Bamboo Plate Set is a beautiful and excellent gift that makes mealtime a little less messy. This mealtime gift set includes 1 bowl, 1 suction divided plate, and 5 spoon packs (green, blue, orange, yellow & magenta). This amazing set is made of high-quality biodegradable bamboo and BPA-free food-grade silicone. The spoon is soft for smallmouths and long enough which makes it easy for a mom to reach. This gift set will definitely give a pleasant mealtime for both the little guy and his parents.
Part Four: Gifts for 1-Year-Old Boy Who Has Everything
If the lovely little boy on your gift list is not the first-born baby in his family, that means he may be an already has EVERYTHING from his bigger brother!  He may have enough clothes that are in great condition. He does not need toys as he has that many second-hand toys that enough to sink a battleship. He may also have enough books to fill a library. Don't worry and we are here to help you to brainstorm about the perfect gift ideas for the boy who has everything. Here are some suggestions:
Donation to a charity on his behalf

Passes to a nearby play center

Sponsor a term at swimming lessons

Sponsor a term of baby gym classes

Family Zoo/Aquarium passes

Tickets to a fun kids museum

Subscription to Baby magazine

Coins collection from the year he was born
Sure is Pinteresting!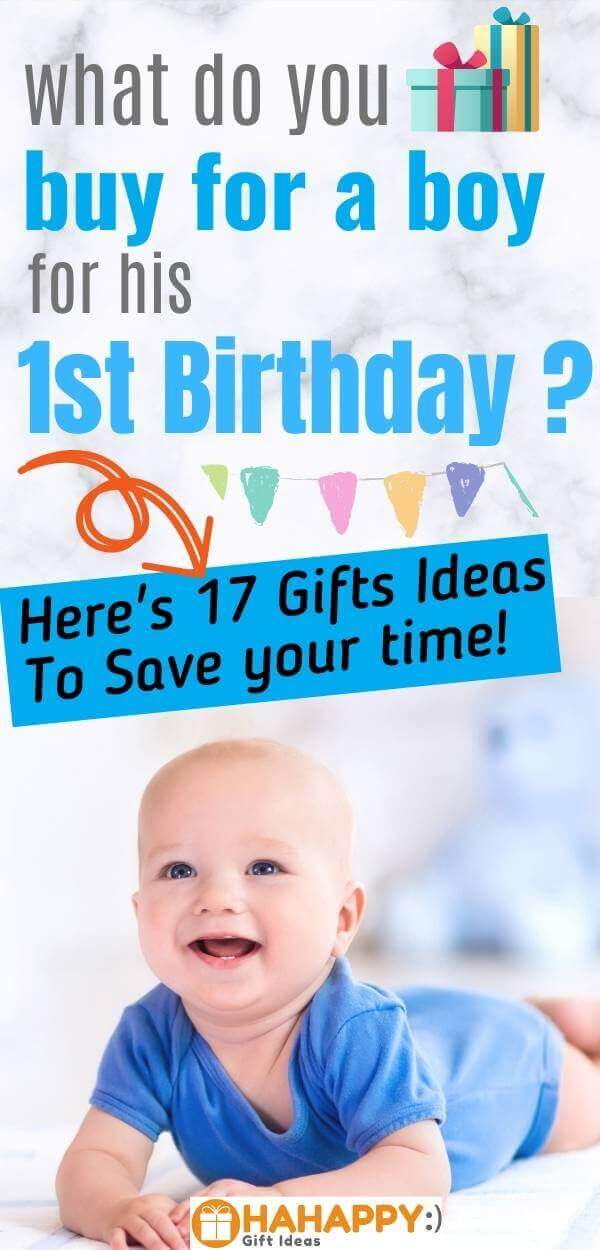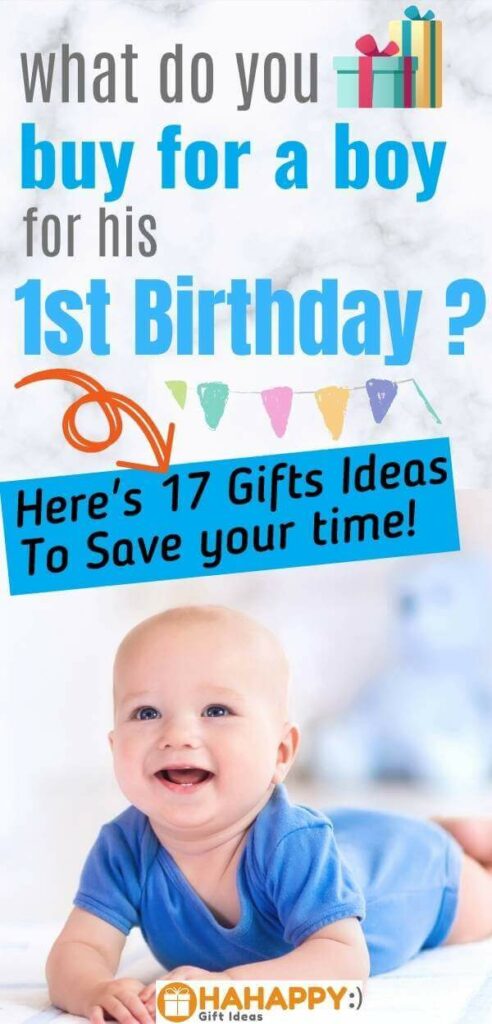 ---
Related Post of Best Gifts For 1-Year-Old Boys:
---