Best Gifts For 1-Year-Old Girls (That Parents Will Love)
Are you looking for the Best Gifts For 1-Year-Old Girls? Or are you at a loss to find the perfect gift for your friend's daughter's 1-year-old birthday? We have collected more than 30 gift ideas for 1-year-old baby girls which cover the different needs of a 1-year-old child, both the baby girls and the parents will LOVE it! Read on to see what we have to offer, and we hope you find it helpful in your quest for unique first birthday gifts.
Best Gifts For 1-Year-Old Girls – FAQ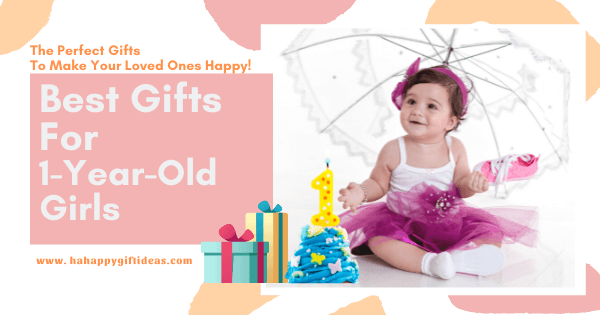 Q: What is the best gift for first birthday?
The little baby girl is turning one—welcome to the world of toddlerhood! But it's difficult to know what to get for her 1st birthday. Should you get something emotional, entertaining, educational, or just something sweet? As it turns out, the best first birthday gifts include a few important characteristics.
When a girl reaches the age of one year, she enters toddler territory. What does this imply? She is more mobile, perceptive, and exploratory than she has ever been. One-year-olds can sit and, in some cases, stand and walk. They are inquisitive about their surroundings and particularly interested in tactile sensations. At this stage, they are also fine-tuning their other senses and enjoy looking and listening at the same time. So, when shopping for a baby girl's first birthday gifts, look for items that will pique their interest and encourage these skills. Push and pull toys, textured toys, and other similarly stimulating playthings are among our favorite developmental toys for one-year-olds.
Age-appropriacy is, of course, only one component of the ideal gift ideas for 1-year-old girls. To be truly memorable, first birthday gifts should be unexpected and personalized in some way. That could be a really cool and sweet design or a product made specifically for the little girl.
Q: What do you gift a one-year-old that has everything?
If you're looking for gift ideas for a one-year-old girl who has everything, here are some great inspiration for you to start with:
Book Gifts
Moving on from baby toys, 1-year-olds are also practicing speaking and recognizing rhymes, preparing them for books that teach words or interest them with lifting flaps. Most of the parents love board books since they are a little more durable and can be read over and over again. New parents will also appreciate the fact that you are expanding their child's library. Reading novels is also a fantastic way to wind down before bed. Babies sleep better when they have a bedtime ritual.
Family gifts
A present for a baby who has everything is something that the entire family can enjoy, such as a picture session. Families are busy, and family photos would be a wonderful gift. This is a present that first-time parents will enjoy tremendously.
Personalized gifts
A customized baby gift is one of the best gift ideas for the baby girl who has everything. It's a unique and considerate present that you don't often come across. It should be tailored to the preferences or characteristics of the family receiving the baby gift.

Q: What toys does a one-year-old need?
Young toddlers can't tell you what toys they want, but watching what they do is a wonderful approach to come up with the finest gift ideas for 1-year-olds since it provides you insight into their developmental stage and interests. Your kid is exploding with new skills at 12 months, and given that toys are just instruments for children to practice new skills and learn about their environment, choosing suitable gifts for a one-year-old that fosters those newly acquired skills is critical.

Q: What can I buy a one-year-old Besides toys?
Because most people give toys to babies, seeking a present that isn't a toy is a fantastic option.
Best Gifts For 1-Year-Old Girls – Final Words
Choosing the greatest gifts for children may be difficult, but finding the ideal gift for a 1-year-old may be easier than you think: this is the age when the box is more fascinating than the item inside.
It doesn't have to be difficult or stressful to figure out what to buy for a one-year-old. We are certain that our gift guide will help you discover the ideal present for the one-year-old girl in your life. This list includes something for everyone, whether you're looking for large or little gifts, an instructive item, an active outdoor activity, or sweet custom gift ideas.
Related Posts of Best Gifts For 1-Year-Old Girls
---
Photo credit: Dan Harrelson via Visual hunt / CC BY